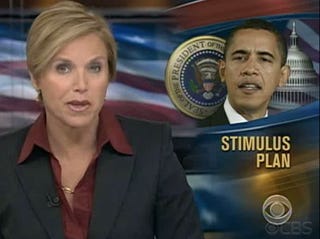 In your tepid Tuesday media column: James O'Keefe's powers of seduction are harnessed, Les Moonves has regrets, ABC News buyouts, and TONY EIC says adios.
CBS CEO Les Moonves said about Katie Couric's fat pay package as CBS anchor: "The Katie Couric deal will be the last big deal of that kind ever done. … Those days are over, because the news no longer generates the kind of revenue or success that's worth doing [those contracts]." He should know, he's the guy that paid her! Hahaha. Funny.


FYI to all you liberal pussies and "women" getting upset about James O'Keefe's sexxxy plot to somehow seduce a CNN reporter, with hijinks: James O'Keefe says the reporter was in no danger, and "she was not going to be faux 'seduced' unless she wanted to be." We don't think that would have been much of a threat.


ABC News is offering buyouts to studio and control room employees who work on news programs, The View, and One Life to Live.


Time Out New York editor Michael Freidson announced yesterday that he's leaving for a job in London. Bye!