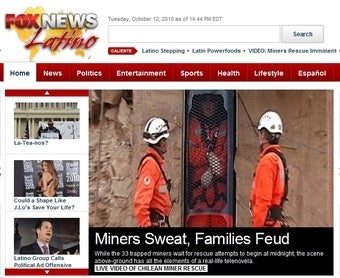 S
In your paltry Tuesday media column: Fox News wants the Latino eyeball, the Brits unite against Rupert Murdoch, Hoda Kotb has a book, the NYT Magazine steals from Oprah, and how to find HuffPo, on the internet.
Fox News is launching FoxNewsLatino.com today, the website for computer-literate self-loathing Latinos everywhere.


Rupert Murdoch is trying to take over broadcaster BSkyB in an $8 billion deal. And literally the entirety of the non-Murdoch-owned British media is uniting in opposition to the deal. It's heartwarming, seeing the little devils fight the bigger devil.


Hoda Kotb had a book party! Related: Hoda Kotb has a book! Hoda, our invitations got lost! Email us!


Hugo Lindgren, recently named new editor of the NYT Magazine, has now named his deputy editor: Lauren Kern. FUNNY THING: Lauren Kern was hired as the new top editor of Oprah's magazine just last month. Hahahaha! Fuck you, Oprah! The New York Times says fuck you, Oprah? What are you going to do about it?


The Huffington Post: there are actually some good people working over there, despite the shoddiness at the top.


It is so slow today. Just look at the shit Romenesko's putting up today. It is so slow.