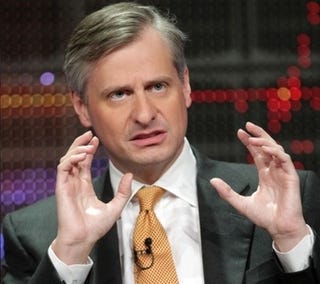 In your freewheeling Wednesday media column: Jon Meacham joins the promising field of book publishing, Tina Brown's talking about Newsweek, WSJ. magazine is coming out more frequently, and Matt Lauer, *spotted.*
Former Newsweek editor Jon Meacham is leaving the magazine world entirely, to take an executive editor position at Random House. We don't blame him.


Tina Brown is talking, also, about Newsweek! The failed Daily Beast-Newsweek merger, in particular. Here is one thing she said: "It's just that we have to be nimble, you know, our business, and when you started to graft the things together, it was clear that it wasn't going to be a nimble business for us, and that might even be the reverse of helpful for the brand." Here is another thing she said: "I'm sure they'll find somebody, but it has to be a web strategy and a magazine strategy. That's why it seemed like a good fit with the Beast. But ultimately it was just too complex. You can imagine." Indeed.


WSJ. Magazine is going to increase its frequency to nine issues next year, from six this year. That's a good sign and everything, but it's hard to argue that this is piece of news is very interesting.


Oooo, Matt Lauer was *spotted* lunching at Michael's with former GE boss Jack Welch. Jack Welch advises Barry Diller also. Does this mean Matt Lauer will be moving online-only soon? Or perhaps he'll be marrying Tina Brown? Or maybe it was just lunch? Who knows? Not us!
[Pic: Getty]