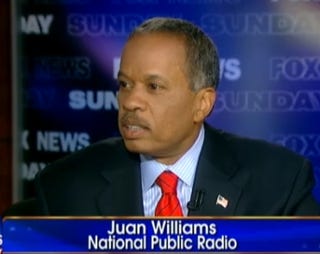 In your politically advantageous Thursday media column: Juan Williams speaks, Matt Taibbi is outgrowing his wild days, Tina Brown is rapidly approaching "feud" status with Newsweek, and a funny video, about Newsweek, on the internet.
Juan Williams, fired by NPR today for honestly expressing his fear of scary Muslims in our nation's skies, has now responded publicly, saying that his remark was "not a bigoted statement," and faulting NPR for firing him without even letting him speak to them in person about it. (NPR says in a memo that it's had "many conversations and warnings over the years" with Williams about his public statements). Also Bill O'Reilly is now leaping to Williams' defense and calling for funding cuts for NPR, which is the official new talking point on this, apparently. Juan Williams' future as a heroic favorite at Fox News is suddenly very clear. (Update: Fox News has given Juan Williams a new $2 million contract.)


This Max Abelson profile of Matt Taibbi in the NYO yesterday is well worth reading, partly as a reminder that the only guy who really carried gonzo journalism into his 40s and beyond was Hunter Thompson, and look what happened to him.


Tina Brown: still yakkin! There she was at some party, telling John Koblin how she didn't even think editing Newsweek would have been any fun, so no big loss. And then Newsweek's last remaining employee finally gets so pissed that he goes on the Twitter and says "This story is so Monday. We've moved on. Best of luck, Tina, with your own set of challenges." This feud is already more interesting than Tina Brown's reign as Newsweek editor would have been.


The video below from the Newsweek Tumblr is the funniest thing to come out of Newsweek since the Onion-lite stylings of Andy Borowitz ever.