Lots to catch up on: Roger Sterling's book, Big Love will end after season 5, Futurama's 100th episode extravaganza, Jerry Springer turns 20, every Halloween special, ScarJo and Anne Hathaway will host SNL before the year is over, and more!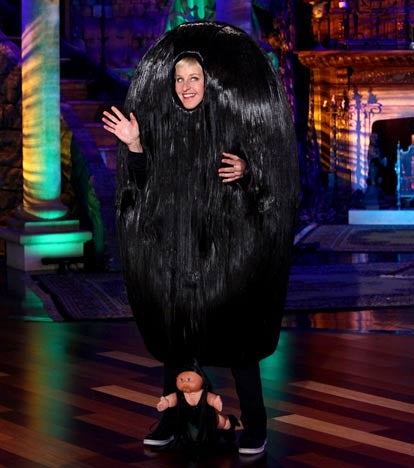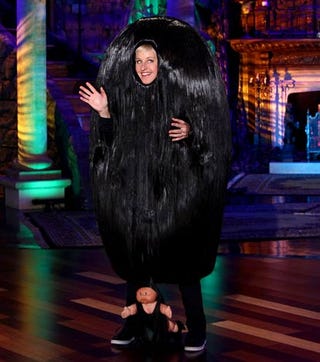 You guessed it: Ellen is going as "Snooki's Pouf" for Halloween. Win! [Us Magazine] In other news, I've been stuck serving on a jury all week long but today we got a day off. And with it, here's a week's worth of TV links!
In TV News...
You can actually purchase the memoir that Roger Sterling was penning on the past season of Mad Men. Just in time for Christmas! [Amazon]
What did you think about Obama's appearance on last night's Daily Show? Some people think the audience totally ruined it. [Splitsider]
Two more SNL hosting lineups have been announced: Scarlett Johansson/The Arcade Fire on November 13th and Anne Hathaway/Florence and the Machine on November 20th. [EW]
Rejoice! HBO has given both Eastbound and Down and Bored to Death a third season. [TV Squad]
Can't wait for tonight's Halloween episode of Community? Go behind the scenes here. [TV Squad]
Sad news for Big Love fans: HBO says that the 5th season of Big Love (premiering January 16th) will be its last. [TV Squad]
Laura Prepon (perhaps best known as That 70's Show's Donna) will join the cast of Castle as his new love interest. [Ausiello Files]
Showtime will follow in HBO's footsteps and launch "Showtime Anytime" — a service that will allow subscribers to stream shows anywhere. [Variety]
Conan will air a test-run of it's first show on the internet a week in advance! [Deadline]
The Office has new Halloween-themed webisodes up! This time, they were directed by the lovely Mindy Kaling. [Pop Watch]
SyFy has canceled Caprica and in the ultimate "dick move," won't show any new episodes until next year. [io9]
David Alan Grier will play "Jasper, the singing, dancing homeless, estranged Dad of Mercedes" on Glee. [Twitter]
The season finale of Futurama will air on November 21st in the form of The Futurama Holiday Spectacular. Both Coolio and Al Gore will lend their voices to the episode. [Collider]
Balthazar Getty will return to Brothers and Sisters for the show's 100th episode in 2011. [Zap2it]
The Jerry Springer Show turned 20 this week. Here's a look at 20 years of crazy moments. [TV Squad]
Office fans: we now know when the beloved Holly will return to the show. Click to find out as I don't want to ruin the surprise for those who care! [E Online]
For those who love their Halloween specials, here's a list of all them all (starting today and ending on Sunday.) Set your DVRs! [TV Squad]
Around the Web...
And if you do nothing else today, click on this hilarious gallery of Regis Philbin's best Halloween costumes. Here's a sampling: