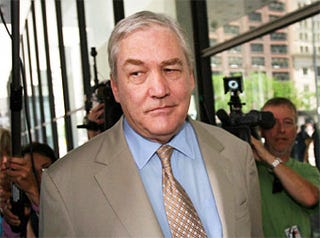 In your ignominious Thursday media column: Conrad Black has big plans, new hires at Fast Company, Conde Nast's memo-writing abilities are woefully inadequate, and the wee New York Times Co. lives in a tiny dollhouse.
Oh good, archetypal evil plutocratic press baron Conrad Black says he'd consider returning to a career in the media. Now that he's out of prison, you know. He also thinks newspapers are a bargain now! This can only play out exactly as we'd all imagine.


Conde Nast CEO Charles Townsend sent out an inspirational internal memo notable for its high corporate doublespeak quotient. There's "setting in motion a structural realignment of the organization"! There's "commitment to consumer centricity"! And "metrics-based tracking and measurement"! I bet if Conde Nast tried really hard, they could find one person in their company who can write decently.


Fast Company has hired a new creative director and a new photography director, and scooped up two new editors as well. They really are fast! Haha! I'm just kidding, just playing around. I don't think they're sluts. Full details here.


Fun fact: the New York Times Co. is now the smallest company in the S&P 500, with a market cap of just $1.1 billion. Pinch Sulzberger is celebrating with a crumb of bread and whole thimble full of wine.
[Photo via Getty Images]