A new Arrested Development reunion to look foward to, Molly Shannon heads to HBO, Doug Benson's new show premieres tonight, and the cast of Childrens Hospital goes live this Sunday night!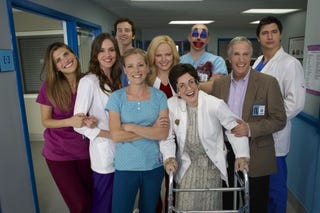 In TV News...
Doug Benson's new show Benson Interruption premieres tonight on Comedy Central at midnight. [TV Squad]
Team Coco will post full episodes of Conan the morning after they air. [Team Coco]
The Supernanny has quit her show to start her own family. Hope her children behave! [Hollywood Reporter]
NBC has ordered two more episodes from Community. This is good news for a show that some consider to be "on the bubble." [Hit Fix]
Keith Olbermann has been suspended indefinitely for donating his money to democrats. [Politico]
Gleeks: You can listen to the show's Christmas songs online. But you already knew that, didn't you? [Vulture]
You should watch Conan's new show on Monday — OR LENO WINS! [Uproxx]
Michael Patrick King (creator of Sex & The City) will direct a new comedy about hairdressers for NBC. [Deadline]
Oof: Bachelorette suitor found dead at 35. [Hollywood Reporter]
USA has ordered three new pilots: Wild Card (about Las Vegas) Eden</i (about a young hotel worker) and Over/Under (about a day trader with a gambling problem.) [THR]
Gwyneth Paltrow will sing Cee-lo's "Fuck You" when she appears on Glee. [Spoiler TV]
Mary Tyler Moore and Betty White will reunite on-screen for the first time since the Mary Tyler Moore Show, 33 years ago. You guessed it — on Hot in Cleveland. [Daemon's TV]
NBC won't order new episodes of Undercovers. [TV.com]
Molly Shannon will return to TV in the form of a comedy on HBO. She'll play an ex-nun. [Splitsider]
Television's top redheads of all time. [TV Squad]
Important! Childrens Hospital will broadcast live this Sunday at midnight on Cartoon Network. The show will be the season finale and is directed by David Wain! [Adult Swim]
Around the Web...
More info has been released on Jason Segel's new muppet movie! Not sure how we feel about the new "gadget-loving" muppet, but since the movie is in the hands of Segel, we'll bet it's good. [Coming Soon]
Five reasons that Mariah Carey's new Christmas song isn't as good as "All I Want For Christmas is You." [The L Magazine]
Hey, great—Kim Kardashian took a ride on the New York City subway for the first time today. Now get out of our city, thanks! [Hollywood News]
What your facebook feed looks like when all of your friends have babies. [Jezebel]
Weekend LOL's: 20 photos of cats and dogs looking shocked. [Buzzfeed]
How to use twitter like an adult. [Lifehacker]
I'm late to the party, but this list of the 50 reasons to be absolutely euphoric that you reside in New York City is pretty great. [Runnin' Scared]
Finally, I leave you with this tiny nugget of happiness. Peter Serafinowitz just tweeted "The person playing @arnetwill's dad in Running Wilde is..."