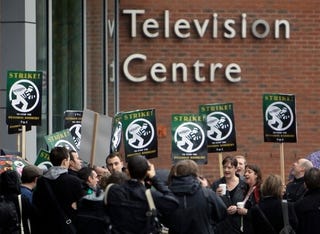 In your unified Friday media column: a strike at the BBC, Daily Candy's editor is out, Forbes debuts its "sponsored blog," and Jon Friedman has but one wish.
Journalists at the BBC are on strike! A 48 hour strike over pension benefits, which will result in "a news blackout tomorrow across its main TV and radio news programmes." Does that include Gordon Ramsay? Cause if it doesn't, I'm like, "whatever." Just kidding BBC journalists, we support you fully, you state-backed teat-sucklers! Death to scabs, and to The British!


Janet Ozzard is out as editor of inexplicably valuable lady newsletter Daily Candy. No word as to why, so if you know, holla.


The new and bloggier Forbes.com has posted its first "sponsored blog," by SAP. Nat Ives reports that some people (including ASME head Sid Holt) think it's too similar to editorial content to be ethical. After perusing it for four seconds, we have to admit they're right; but the more interesting question is, will they be able to get anyone to actually read this crap on a regular basis? We highly doubt it. But if they do, they're sitting on a gold mine.


Jon Friedman has but one wish, and that wish is for Katie Couric to just do one little interview with him! Over a nice bottle of wine, on a blanket on a breezy, secluded tropical beach. But he'd settle for, you know, just a phoner. Call him Katie! Nice man.