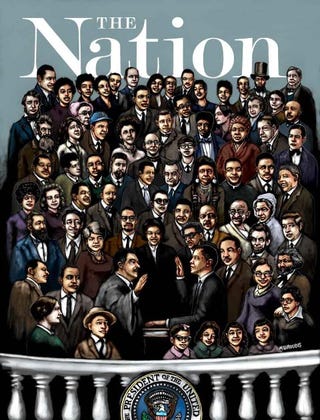 In your innovative Thursday media column: The Nation vs. the New York Times, Newsweek's quiet on its merger plans, your good media idea could make you millions, NPR's Juan Williams investigation is underway, and a remembrance.
The Nation says that the NYT used bad data when it reported that The Nation's ad pages were down by 30%. They were MIN numbers that got screwed up by a "botched spreadsheet," to be specific. Once again, spreadsheets ruin everything.


Neither The Daily Beast nor Newsweek will comment on Keith Kelly's report today that their merger talks are back on. So, logically, it's probably true, or else they planted it for nefarious "strategic" reasons.


Do you have an "innovative media technology" idea, and all you need is $5 million to make it happen? That's a coincidence cause the Knight Foundation wants to fund your innovative media technology idea, to the tune of $5 million. Seriously. Oh... solar power Twitter, how's that?


NPR head Vivian Schiller says in a memo today that the independent review of Juan Williams' firing is "well underway, but not complete." By the time it's complete, we imagine, the news cycle will have turned a full fourteen revolutions.


On this veteran's day, take a moment to remember the 38 journalists killed in 2010, also.