S
Your daily look into the twitterific lives of our favorite celebs.

S

Thanks Nicky, that's nice of you.

S

Veterans get some good old fashioned Nanny love.

S

They also get some love from Uncle Jesse.

S

This is a good attempt at creating a time-honored Veteran's Day tradition, but seriously hugs before pinches.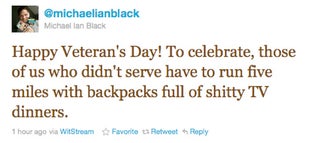 S

Or you can honor Veterans by doing this.