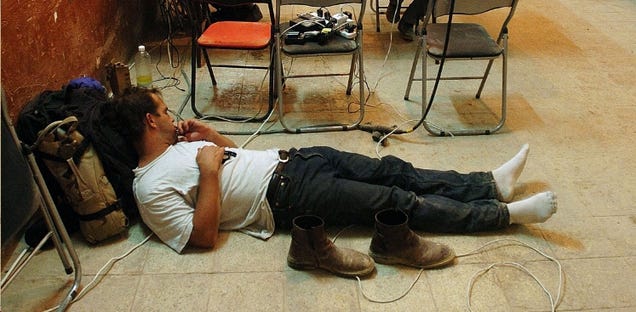 In your merit-based Monday media column: Dexter Filkins gets his reward, magazine ad pages rise (a bit), Dan Abrams expands his empire, the AP shows dead Marines, and you didn't donate to your local public broadcaster, did you?
Grizzled New York Times war correspondent Dexter Filkins (pictured) is joining The New Yorker—where, the NYO reports, he "won't write exclusively about war-he is expected to weigh in on other topics." I'd expect him to weigh in a lot on Aruba and Swiss chalets, considering where he's spent the last decade. (David Remnick says he's "over the moon.")


Monthly magazine ad pages rose by 4% in 2010—although they'd been down by 9% and 20% in the past two years, so it's a deep hole they're climbing out of now. People mag was tops (as always!). Vogue was up by 16% over a horrendous 2009. All in all, proof those magazine ads for magazines are really working.


PR man and mini-Denton Dan Abrams is launching three new websites: a blog about moguls called "Mogulite," a "technology news blog directed at women," and a media job site to compete with Mediabistro. (Because the media job supply is literally overflowing, these days.) This is in addition to the five sites he already has, which, if you can name them all and have never been employed by any of them, I will give you five dollars. (Sorry, you Googled it, doesn't count.)


Here, the AP explains why it's publishing photos of Marines killed in the Iraq war. They're performing a public service.


Public broadcasters: broke as a motherfucker. The fundamental problem is that the states are broke, but also all the individual people are broke. Also, Republicans.
[Photo: Getty]