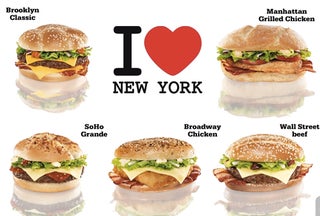 S
McDonald's just introduced a brand new line of New York-themed sandwiches at their locations throughout the Czech Republic.
The chain named each dish after a neighborhood, avenue or borough in this great city of ours and, not surprisingly, their descriptions seem to have nothing to do with their geographic inspirations. Let's meet them, shall we?
All copy translated via Google Translate:
Wall Street Beef: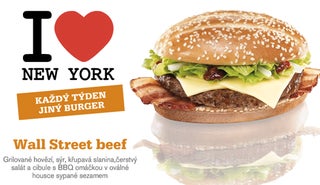 S


"Grilled beef cheese, crispy bacon, fresh lettuce and onion with BBQ sauce in the oval bun topped with sesame seeds."
Broadway Chicken: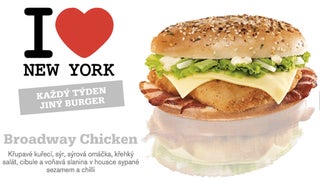 S


"Crispy chicken, cheese, cheese sauce, crisp lettuce, onion and bacon in a fragrant bun topped with sesame seeds and chili."
SoHo Grande: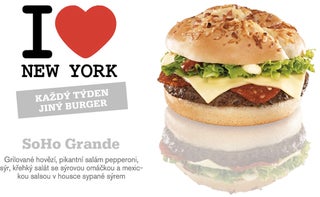 S


"Grilled beef, spicy salami pepperoni, cheese, crisp, with cheese sauce and salsa mexico-tion in the bun, cheese."
Manhattan Grilled Chicken: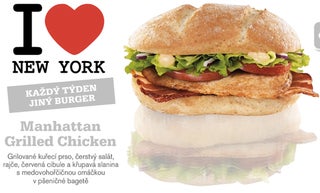 S


"Grilled chicken breast, fresh lettuce, tomato, red onion and crispy bacon with honey and mustard sauce in a wheat baguette."
Brooklyn Classic: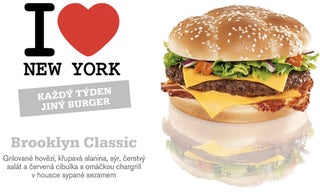 S


"Grilled beef, bacon, cheese, fresh lettuce and red onion sauce chargrill in a roll topped with sesame seeds."
Sweet Hearts: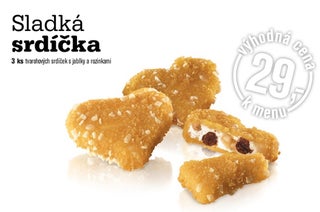 S

"3pc quark hearts with apples and raisins."

---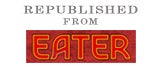 Republished with permission from Eater.com. Authored by Greg Morabito.