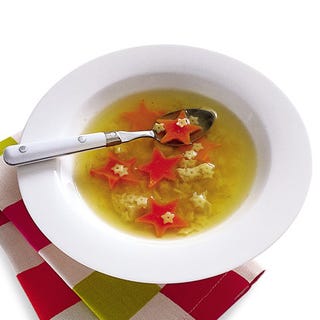 Think you've got what it takes to be a live-blogging all-star? Then join our group live blog of Top Chef: All Stars in the comments section under this post. You'll be feeling stellar in no time!
Here's all you have to do to participate: Turn on your TV, watch tonight's episode (on Bravo, at 10 pm Eastern), and post a running commentary in the comments below. The rest of us will be doing the same. It's like group-sourced galaxy of snark!
If this episode is anything like last week's was, we should be in for another great live blog tonight. The all-star concept may have fizzled on some other reality shows (I'm looking at you, Survivor), but for some reason it seems to work really well for Top Chef—and the premiere drew raves from most of the commenters. Of course, this spirit of generous approval may have helped along by our "drink for every prior-season flashback" rule, since dozens of such flashbacks occurred during the episode. At this rate, that may be the only drinking-game rule we'll need for the rest of the season.
Not only was last week's episode great, but the comments were too. I've assembled a few of my favorites, so be sure to check that out when you get a chance. Other highlights from last week included these:
Commenter Heneage came up with a great pair of nicknames to keep the two chefs named "Dale" straight: Dale Talde is "Angry Dale," and Dale Levitski is "Sassy Dale."
Other nicknames coined by the commenting crew included "The Douche Elf" for Marcel (from ghiagirl), "Lord Fauntleroy" for Stephen (from Heneage, again) and "Bellatrix" for Elia (from cletar)—the latter because Elia's latest hairstyle makes her look like Bellatrix Lestrange from the Harry Potter films. Sadly, at the end of the episode, Elia was forced to pack her wand and disappear.
When Angelo said "I'm ready to come out victorious," commenter CaptainSnarky quipped: "Angelo, we'd just like you to come out."
We all thought the elimination challenge concept was a great one: take the dish that got you kicked off last time, and transform it into something good—or, to paraphrase Anthony Bourdain, take your biggest past fuck-up and "unfuck" it. If only we could all do that in our lives!
One thing we can do in our lives is anticipate several things that will happen on tonight's episode—thanks to the miracle of preview clips! Here are a few moments to watch for:
The chefs will have to prepare and serve treats for children attending the American Museum of Natural History's "Night at the Museum" event—a challenge that will cause many chefs to go crazy in the kitchen trying to grab as much sugar as they can find. Hopefully, they won't send any of the kids into a state of hyperglycemic shock.
Several chefs will accuse Angry Dale of sugar-hoarding. Will this vile accusation make Angry Dale angrier? Will he punch a locker and bleep-swear like the Angry Dale of old? We can only hope!
Marcel will snarl, "You don't fuck with somebody else's mise en place!" I guess this is what passes for bad-ass-talk in the world of chefs.
Season 1 host Katie Lee Joel will return as a guest judge. I think it's appropriate that she chose this particular season to return, because she's a true all-star among reality-show-hosting one-season wonders—just like Brian Dunkleman!
OK, all you stars, it's nearly 10 pm—time to shine. I'll see you all down in the comments!