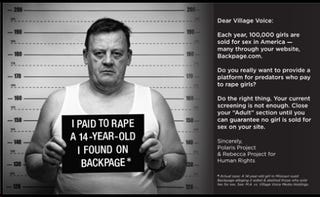 In your ferocious Friday media column: bad PR for Village Voice Media, Glenn Greenwald's in fine form, Bloomberg's up, the NYT Co. is down, and Judith Regan still exists.
Ooo, a group called The Rebecca Project is running ads in Village Voice Media-owned papers calling on Village Voice Media to stop selling sex ads on Backpage.com, which is where all the hooker ads are now, FYI. Also, the sex-trafficked persons ads, unfortunately. I wouldn't expect VVM to do that, though, because, money. Craigslist didn't need it, but VVM really does.


Glenn Greenwald has been doing his usual admirable, strident work berating the mainstream media about their reporting, lately about Wikileaks. He even got Time magazine to issue a correction! Oh.. "In reality, the 'correction' is nothing of the sort; it is instead a monument to the corrupted premise at the heart of American journalism." Nobody does hyperbole like Glenn Greenwald.


Bloomberg LP had $7 billion in revenue this year, with profits that Keith Kelly estimates at around $2 billion. Meanwhile, back at Times Square, the New York Times Company was dropped from the S&P 500.


Rich publishing person Judith Regan speaks about the media, her sexxxy dating life, and more things in this interview, if you're interested in that.


Michael Slezak is leaving EW to become a senior editor at TVline.com.
[Pic via
TDB
]