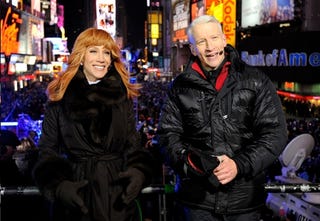 In your icy Tuesday media column: Kathy and A.C. are back for New Year's eve, Larry King's nearly done at CNN, John Roberts leaves morning TV, and HuffPo's profitability confirmed.
Despite the fact that she was all profane and shit last year, CNN has invited Kathy Griffin back once again to host New Year's Eve with Anderson Cooper. Will Kathy spend the entire broadcast winkingly fellating a leather-clad male stripper as Anderson uncomfortably tries to proceed as if nothing's happening? Tune in and find out!


This is Larry King's last week on CNN. He's done 7,000 shows on the network. Larry, you had a good run. (I imagine. Never watched him, myself.)


John Roberts, the man who looks like an action movie director's idea of a TV newsman, is leaving his gig as co-host of CNN's American Morning and going back to being a reporter, in the midst of low ratings. To be fair, who watches CNN in the morning? It's just a ridiculous notion.


A totally hip book reviewer? That will be the day!


The Huffington Post says it will be profitable this year for the first time. YEA, OLD NEWS. Ha, that is so obnoxious to say. Here is more analysis of the company's value. Also HuffPo "expects sales to triple by 2012," which is internet-media-business code for "Here we are just saying something that sounds good and is meaningless."