Lots of gossip for you all today: Kathy Griffin can't swear on CNN's New Years program, NPH versus Eric Braden, Matt Dillion heads to Modern Family, Brian Austin Green and Harold Perrineau sign on to a TBS pilot, and more!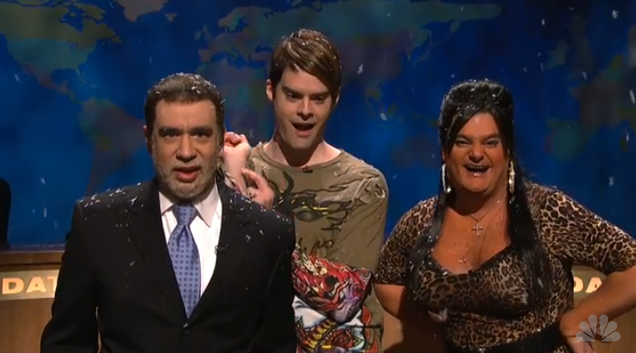 Happy Holidays from Weekend Update's favorite of 2010. [Hulu]
In TV News...
Jim Carrey will host the January 8th episode of Saturday Night Live, with musical guest The Black Keys! Can't wait to hear a great band sound like crap on national TV. [The Wrap]
Kathy Griffin will not be allowed to swear during CNN's New Years Eve broadcast. She told Howard Stern, "This time I have in my contract that I can't say fuck. And this time they even said if I say fuck they're going to pull me from the air." [Mediaite]
Will Smith will produce a new show for Fox about "a crime-fighting female college student in China," just so we're all in the loop. [Vulture]
RANDOM CELEBRITY FEUD! After Eric Braden (The Young and the Restless' Victor) was a d-bag on the set of How I Met Your Mother, Neil Patrick Harris took to twitter to let the whole know. Eric Braden responded by pretending like he'd never heard of NPH. It's a silly feud that's already been resolved—actor Ray Wise will fill the role of Robin's father instead. [Vulture]
Yeah, sure, the new Lonely Island song is funny (and catchy as hell) but did you stop and think about how it's SEO optimization is off the chain? Don't worry if you didn't—it just means you're not a nerd. [Pop Culture Brain]
Speaking of this week's Saturday Night Live, did you think it was the best episode of the season? I know I laughed my way through the entire episode! [Movieline]
The Big Bang Theory's Kunal Nayyar is the last of the cast to get a raise. But at least he got one, right? [Deadline]
Matt Dillon will appear on Modern Family as Claire's ex-boyfriend... who's currently dating her Mother, DeDe. Ouch. [Inside TV]
Everything you ever wanted to know about Oprah and the launch of her OWN network. Not her own network, but the Oprah Winfrey Network. So, actually, I guess it's both! [NY Times]
So You Think You Can Dance's Cat Deeley will play the assistant principal on Disney's Shake it Up. [Inside TV]
Brian Austin Green and Harold "WAAAAALT!" Perrineau have joined the cast of TBS' Wedding Band pilot. The show's about a group of dudes who escape the stresses of their life by playing in a wedding band at night. [The Hollywood Reporter]
The cast of Freaks and Geeks will reunite at this year's PaleyFest 2011. [THR]
NBC's new comedy Perfect Couples will air on tonight. Tune in—or don't, cause it very well might suck. [Splitsider]
Joel David Moore will join the cast of Hawaii Five-O. I remember him best as the mega-nerd from Grandma's Boy or the wimpy kid in Dodgeball.) [Movieline]
New (and good) television is pretty hard to come by for the next few weeks—here's a guide of what to watch from now through December 26th. [TV Squad]
Around the Web...
Betty White has been named the AP's Entertainer of the Year. A solid choice, if there ever was one! [TV Guide]
While the Taylor Swift/Jake Gyllenhaal romance is a mystery to many of us, Gwyneth Paltrow totally gets it—and is apparently the one who set it all up! [Zap2it]
Most of North America is privy to a lunar eclipse tonight! Here's how to catch it. [Gawker]
If you haven't taken some time to check out the Kardashian Family Kristmas Kards throughtout the years, you are seriously missing out. [Jezebel]
Have you ever head of Fast Lane Daily? It's a one-minute daily car show—and as of today, also the longest-running YouTube series! [Jalopnik]
James Franco has sure gotten a lot of play in the press this year. Here's his top 10 stories of the year! [Movieline]
Who were the winners and losers of Late Night in 2010? We can all agree that Conan won and Leno lost, but what about the rest? [TV Squad]
Everything you ever wanted to know about Chloe Sevigny and sex (or her roles on TV and movies that involve sex) can be answered in this interview. Source is NSFW! [Playboy]
Listen to two new Christmas songs from Sufjan Stevens and The National. [Vulture]
Get excited!! The 13 most-anticpated TV shows and movies of 2010. [Movieline]
"25 Los Angeles Watchdogs" is a documentation of a walk through LA and contains a bunch of reeeally cute dogs. [YouTube]
Why not let Donald Glover give you a tour of his New York City? [BlackBook]
This roundup of all your favorite 90s TV characters dressed in Santa costumes is a must-read for the nostalgia-lovers out there. [Flavorwire]
As for me, I'm hopping on a plane tomorrow morning and won't return until late next week. Until then, enjoy your holidays, loyal Gawker.TV readers!