The petition to save Yo Gabba Gabba, Spartacus: the facebook game, Lady Gaga's choreographer gets a reality show, Gwenyth Paltrow and Cee Lo will invade Saturday Night Live together, and all of the numbers from last night's episode of HIMYM.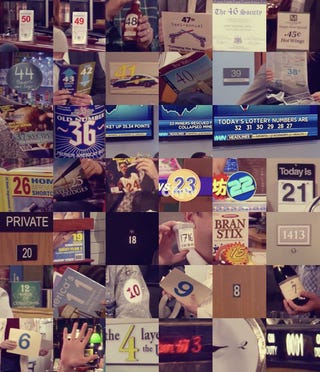 Here are all of the numbers from last night's episode of How I Met Your Mother. [Mack Greene]
In TV News...
After rumors that Gwyenth Paltrow and Cee Lo might crash Saturday Night Live this weekend (during a show which they are neither the host, nor the musical guest) it's been announced that the two will host/guest the January 15th episode. [Movieline]
Pretty Little Liars returned for a second season with numbers that were a series-high. [Deadline]
Dina Manzo (the Real Housewife of New Jersey who quit the show) says she's coming back to television—but not reality television. No word on what her actual plans are, but be aware that she'll be back soon, I guess? [Pop Eater]
Yo Gabba Gabba looks to be in trouble. Go here and sign the petition if you want to see more wacky appearances by celebrities with kids! [Petition]
Fans of Spartacus and online gaming should be quite pleased to hear that Starz is launching a game about the show on Facebook this week. [TV Squad]
Lots of changes going on at The Daily Show, including a new head writer, new executive producers, and many folks moving on to new positions elsewhere. Congrats to the whole gang of talented people. [Splitsider]
Who's still watching The Biggest Loser? It's been a few seasons for me, and it's pretty hard to commit two hours to the show once a week. Either way, it premieres tonight! [Vulture]
You can watch Firefly on TV—but only for a week. If you get the Ovation network, tune in tonight at 8pm. [USA Today]
A 14-year-old boy survived being lost in the wilderness in negative degrees below using tips he learned on Man Vs. Wild and Survivorman. See, reality TV isn't all bad! [ABC]
The Discovery network has ordered a show that's essentially a gigantic game of Hide and Seek. ...You can't go wrong with a classic, I guess? [Inside TV]
TMZ and Harvey Levin will remain on your TV for the next three years. It's time for an audible groan, everyone! [Inside TV]
Lady Gaga's choreographer, Laurieann Gibson, has been given a reality show. It's called The Dance Scene and will premiere on the E! network. [Inside TV]
Around the Web...
A look back at all of Paula Abdul's totally-and-completely sober moments. [Urlesque]
Zac Efron is moving on from Vanessa Hudgens with ...Rumer Willis?! [Deadline]
All of Pitchfork's reviews from 2010 in a nice, infographic format. [Year in Reviews]
Here's Stereogum's 50 most downloaded mp3s of 2010—snag 'em while you can. [Stereogum]
Ryan Gosling is convinced that watching The Notebook can make a couple break up. [Vulture]
Sherri Shepherd's engaged, y'all! [People]
Kanye West and Jay-Z want to release their new album "Watch The Throne" within a week. [Pop Eater]
And I'm sorry, but have you been to James Van Der Memes yet?!