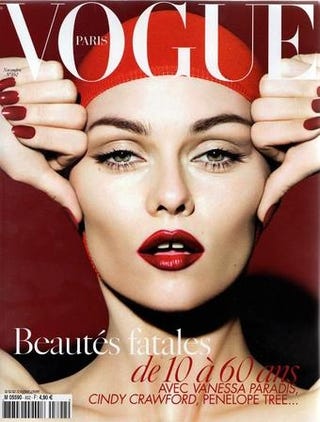 In your arctic Friday media column: French Vogue's new editor, Hearst and Lagardere reportedly set a price, a Boston Herald columnist comes out to cheers, Tiger Woods is no longer a "columnist," and The Daily (the other one) changes hands.
Emmanuelle Alt is the new editor of French Vogue, replacing Carine Roitfeld, who just up and left in typical sexxxy French fashion. Alt was formerly the mag's fashion director, and was the favorite to take over. What else.. she's 43... stylish... likes pets... skydiving... just as comfortable in a ball gown as at home on the couch in a pair of sweats? Time will tell.


Lagardere has reportedly reached an agreement on a price for its long-rumored deal to sell its international magazine division to Hearst. No official number has been announced, but the division did more than $2 billion in sales last year. This will make Hearst a monster.


Boston Herald sports columnist Steve Buckley came out as gay to his readers recently an he got an outpouring of love for it, even though he's in Boston. Nice.


Oh no, Tiger Woods' time as a "columnist" who "wrote" columns for Golf Digest is coming to an end. Now they will be forced to find another golfer to become a "columnist" and "write" columns for them, about golf.


IMG has sold its magazine called The Daily back to its founder; now, he can be the one to sue the hell out of News Corp for using "The Daily" as the name of its new iPad newspaper. May turn out to be a savvy business plan? Possibly!