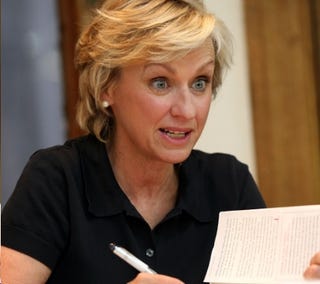 In your wary Monday media column: Newsweek has a "sweeping redesign" coming, Ed Rendell vs. 60 Minutes, Piers Morgan will have at least one good week, post-"Giffords Dies" soul searching, and The Daily is nearly here.
The latest NewsBeast news: Tina Brown's "sweeping redesign" of Newsweek won't be revealed until April. Boring old non-essential useless standard Newsweek until then! Also she's bringing in a couple of former Time editors as "caretaker editors" until then. At which time they will be... publicly sacrificed? You never know! It's a sweeping redesign!


Pennsylvania governor Ed Rendell got all mad on 60 Minutes, making himself look like a fool, because Lesley Stahl kept asking him the same questions over and over again. Rendell is still mad at the show's producers. Eh well, you know.. he's probably right. The media is an unbalanced power dynamic, run by cocksuckers (sometimes).


Larry King's replacement Piers Morgan has revealed his first week's guests: Oprah, followed by Howard Stern, Condoleeza Rice, Ricky Gervais, and George Clooney. Then after that it's all Stephen Baldwin, all the time.


Every media outlet that erroneously announced Rep. Giffords' death is working hard to find out what went wrong.


News Corp's iPad newspaper The Daily is scheduled to launch on January 19. It's scheduled to fold on ____.