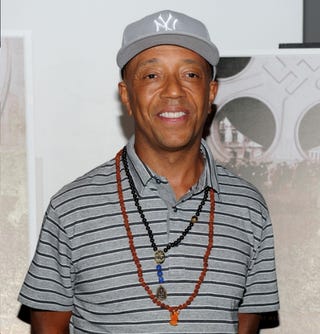 In your odious Thursday media column: Russell Simmons has friends in low places, Virginia Heffernan's out at the NYT Magazine, Brandon Holley has literary plans for Lucky, and Demand Media will now take your money.
Russell Simmons, a man who helped make Public Enemy a household name, had this to say about Fox News Nixonite Roger Ailes: "That's my man. I love him. I talk to him all the time." This is the reason that all the people who are universally considered "cool" died young, before they got to the age where they'd call Roger Ailes "my man."


Oooo, Virginia Heffernan and her internet-thingy column "The Medium" are being kicked to the curb by new New York Times Magazine editor Hugo Lindgren. To the curb! Meaning that Heffernan and her column are out of the magazine. No word on what Heffernan will do next at the NYT, but maybe something about the internet?


Former Jane editor Brandon Holley is now firmly in control at Lucky, the shopping magazine for people who like to buy items, or just pretend to in their minds. One of Holley's primary plans for revitalizing the magazine: "more words." Yea right. How many words can you really fit on a sticker?


Oh boy, online robo-article network Demand Media is all set to go public. Is this a shitty investment? Google it and find a Demand Media article to answer that very question.
[Photo: Getty]