Three months have passed since the parks department was closed down and put on hiatus. A lot has happened in that span of time. Let's check in with our favorite town members of Pawnee, Indiana!
Leslie is the first to get the news that the Parks Department is heading back to work. Here, she informs her humble crew:
So, they're back—but in very limited form. The Parks Department's only remaining program is basketball—which has been whittled down to two team. Ron's is made coach of one team, Andy is in charge of the other, and Tom's the designated referee. Things get a little dicey when the teams actually have a match and Tom's ex-wife is there cheering on her new boyfriend, Ron.
For your viewing pleasure, here's a full-sized version of Ron Swanson's Pyramid of Greatness.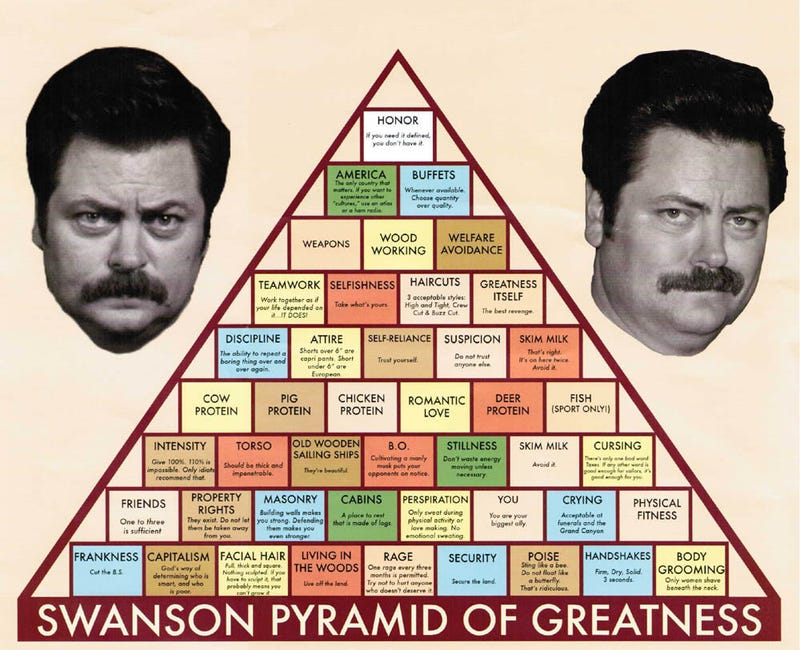 [Click to enlarge]
Leslie is determined to get more money for the Parks Department, and uses Ann as a ploy to do it.
Let's check in on April and Andy. April has been away in Venezuela during the break and hasn't returned any of Andy's 200+ messages. Much to his shagrin, she returns from her trip "across the pond" with a boyfriend. After a pep talk from Leslie, Andy goes and does this:
So, what did you all think of the episode? Was it enough to satisfy the months and months of waiting? Did anyone miss Mark Brendanawicz?