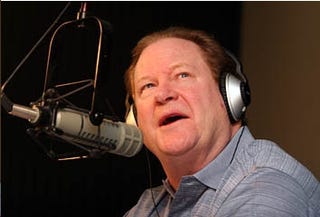 In your frostbitten Monday media column: Ed Schultz proclaims his independence, the Harper's union fight intensifies, major layoffs at the BBC, Mark Bittman's column changes places, and Col Allan communicates with subtlety.
Fear not, left-wing partisans fretting over Keith Olbermann's departure. Unappealing MSNBC host Ed Schultz assures TVNewser: "I have not been instructed to tone it down." Oh...good. Everyone was worried about that.


More fun union fighting at Harper's Magazine! Now a letter signed by many fancy writer types is circulating, asking evil anti-union publisher Rick MacArthur not to lay off two editors that he wants to lay off. Lefty mag union fight! Grrr, evil publisher! Although of course MacArthur's personal money is the only thing that makes Harper's run, so every job there is essentially a charity case. Economically speaking.Which only makes it all the more hilarious. Strike!


Big cutbacks at the BBC: up to 360 layoffs and a 25% budget reduction for BBC Online. Disaffected BBC Online readers: we're here, to be read, by you, still.


New York Times food writer Mark Bittman is moving his column from the paper's food section to the opinion section. If you care about this you are such a fucking yuppie.


A reader sends this screengrab taken from the New York Post's website this morning. Please click to enlarge it to read the message on the title bar: "Col is not going anywhere soon." (It's supposed to read "Bitter cold is not going anywhere soon.") Our tipster swears this is authentic. That is amazing. Also: too bad.

[Photo: Facebook]