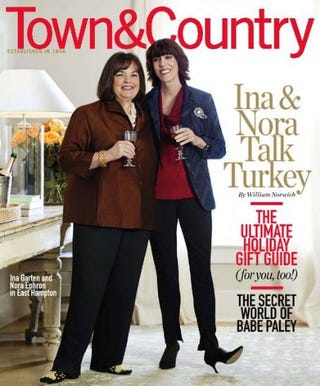 In your intriguing Tuesday media column: the gossip behind Stephen Drucker's departure from Town & Country, female news anchors make men dumb, Rachel Sterne is Cathie Black-esque, and Piers Morgan's ratings.
Remember how Town & Country editor Stephen Drucker was unceremoniously replaced last week, after only a year on the job? We feel it's our duty to inform you of the current gossip, which is this: Drucker's longtime partner is high end real estate broker Frank Newbold. Frank Newbold is the business partner of Ina Garten, the "Barefoot Contessa." Drucker has a habit of putting Ina Garten, somewhat incongruously, in the magazines he's editing. He did at Martha Stewart Living, he did it at House Beautiful, and—yes—Ina Garten (and Nora Ephron) graced the cover of the December 2010 issue of Town & Country. The one that came out just before Drucker's exit. Some insiders find his connection with Ina Garten to be... gauche. HOWEVER, Hearst has consistently said that Drucker left the magazine of his own volition. And a Town & Country spokesperson tells us, "Stephen and Ina have had a professional and personal relationship for many years. She and Nora Ephron had just published new books at the time — plus they are personal friends — so it made sense to put them on the cover together. Stephen felt they made great T&C subjects, and he was right as evidenced by how well that issue sold." So there you have it. Lots of smoke, but no official fire. If you know more about the situation, email me.


Breakthrough study: attractive female news anchors causes men to not remember what those anchors were talking about. FoxNewssayswhat?


All the media nerds are talking about Rachel Sterne, the new chief digital officer for the City of New York. She's 27, founder of a "citizen journalism" site, and an adjunct professor at Columbia. She also has no experience in policy whatsoever! Cathie Black redux, or new vital young blood, internet, media, boilerplate etc.? Stay tuned to find out!


The ratings are in for the first five days of Piers Morgan's new, post-Larry King CNN show. So far he's #2 in the time slot, behind Hannity but ahead of Rachel Maddow. And his total viewers dropped by two-thirds from the first to the fifth show, which may be partly due to the magical draw of Oprah. All in all, he's settling into the comfortable second-tier cable rut just fine.