Prepare for an 8th season of Futurama, Usher and Slash weasel their way into the Super Bowl halftime show, imagine a Gossip Girl without Chuck Bass, and MTV announces a Teen Wolf revamp and the return of Beavis and Butthead.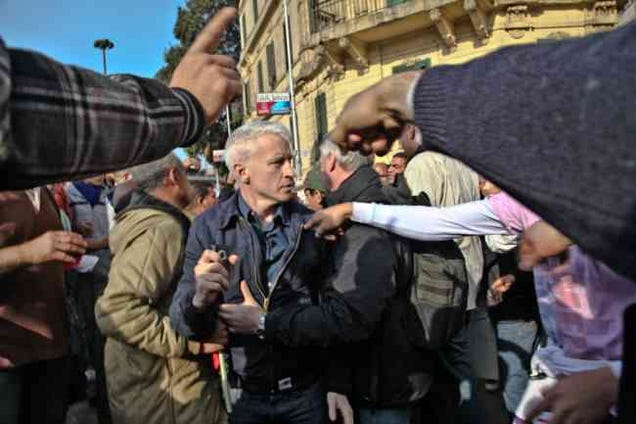 ABOVE: A shot of Anderson Cooper getting attacked in Cairo yesterday. [Mediaite]
What's New on TV Tonight
8 PM — 9 PM
NBC: Community and Perfect Couples
FOX: American Idol
ABC: Wipeout
CBS: The Big Bang Theory and Bleep My Dad Says
The CW: Vampire Diaries
9 PM — 10 PM
ABC: Grey's Anatomy
NBC: The Office and Parks and Recreation
FOX: Bones
The CW: Nikita
CBS: CSI
USA: Royal Pains
HGTV: Selling New York
TruTV: World's Dumbest...
10 PM — 11 PM
FX: Archer
MTV: Jersey Shore
ABC: Private Practice
CBS: The Mentalist
NBC: 30 Rock and Outsourced
USA: Fairly Legal
Tonight's Late Night Guests
The Daily Show: Adm. Michael Mullen (Comedy Central)
The Colbert Report: Jane McGonigal (Comedy Central)
Conan: Lisa Kudrow, Mike O'Malley, Interpol (TBS)
Lopez Tonight: Billy Gardell, Rachel Bilson, OK Go (TBS)
Chelsea Lately Josh Wolf (E!)
Jimmy Kimmel Live: Kim Kardashian, Alex Trebek, One EskimO (ABC)
The Tonight Show with Jay Leno: Jeff Bridges, Dianna Agron, Bobby Long (NBC)
Late Night with Jimmy Fallon: Dana Carvey, Minka Kelly, Ricky Martin (NBC)
Late Show with David Letterman: Howard Stern, Naughty By Nature (CBS)
Late Late Show with Craig Ferguson: Matt LeBlanc, David Pogue (CBS)
In TV News...

Now there's scientific a reason your grandparents don't find The Office as funny as you do! Research has shown that adults just don't know whether to find the awkward situations in the shows to be funny or embarrassing. Laugh a little, folks! [Gawker]
You can watch two clips of Katy Perry in next Monday's episode of How I Met Your Mother. That is—if you like spoilers and poor acting! [Vulture]
NBC has announced the premiere date for the Friday Night Lights' final season—April 15th. Mark your calendars for what's sure to be an emotional season, everyone! [TVLine]
While not completely solidified yet, things are looking good for another season of Futurama on Comedy Central. Hooray! [Vulture]
Dear god no! Ed Westwick has hinted that he feels Chuck Bass's days are numbered. But what will Gossip Girl do without their resident bad guy? [Splitsider]
NCIS has been renewed for another season. [TVLine]
MTV announced today that Beavis and Butthead will return with new episodes (no date given) and that their revamp of Teen Wolf will premiere on June 5th. More quality programming from the MTV! [Inside TV]
By the way, both Usher and Slash will appear in the Black Eyed Pea's Super Bowl halftime show as well. Are you so excited that you can't even stand it or what. Right. [Vulture]
Hawaii Five-0 is considering moving production from Hawaii to Los Angeles. Bet Daniel Dae Kim isn't to thrilled about that idea! [TV Squad]
Around the Web...

Splitsider has a great interview with Peter Serafinowitz about his time on Running Wilde, and what went wrong. The silver lining in that whole mess of a situation is that Mitch Hurwitz is writing a part for Serafinowitz in the Arrested Development script he's currently working on! [Splitsider]
Raise your hand if you had any idea that Elijah Wood made a cameo in Back to the Future 2. It was his first film! [The Daily What]
Yesterday we had photos of baby Kanye, and today it's baby Megan Fox. Seems kind of wrong to see someone who wreaks of sex in their adult life as an innocent child, eh? [Huffington Post]
The 21 types of people at every Super Bowl party. [Funny or Die]
This is serious—the Nicholas Cage matrix. [The Shiznit]
The alphabet of famous hairstyles. [Pleated-Jeans]
Oooh! The first reviews of the Verizon iPhone. [Gizmodo]
Here's some visual evidence that plastic surgery just doesn't look nice in HD. [TV Predictions]
Would you use a foursquare service for sex? It's not the craziest idea in the world... [Gotcha Media]