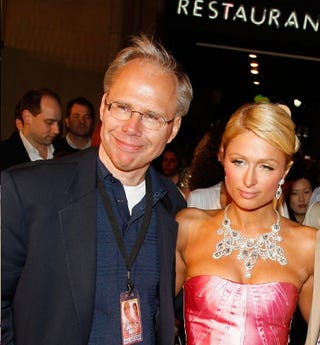 In your crystalline Thursday media column: Regent Media has even bigger money troubles than usual, News Corp is doing well, the new Newsweek is floating around, another Egypt journo-terror roundup, and rumored layoffs at Forbes.
Stephen Jarchow (pictured), the head of Regent Media—which (combined with Here Media) owns Out, The Advocate, and a slew of other gay titles—has been accused of creating "fake movie licensing and distribution deals" in order to secure $90 million in bank loans. This Courthouse News story describes Jarchow's alleged scheme. Odd, since the company can't afford to pay its freelancers.


News Corp's fourth quarter profit was up, and WSJ publisher Les Hinton told employees that at Dow Jones, "Total revenue rose 7% in the three months ended Dec. 31. Circulation revenue jumped nearly 14% companywide, and advertising revenue rose 10%."


Newsweek executives "are about to start showing a prototype of Tina Brown's redesign of the magazine to ad buyers," according to Mediaweek. First person to leak us a copy receives a special, secret prize.


Here's the longest list we've seen yet of journalists who have been attacked, menaced, arrested, or otherwise fucked with/ fucked up in Egypt.


We hear Forbes laid off (correction: three staffers fled for greener pastures!) at least three editorial staffers yesterday. Know more? Email me.
[Photo: Getty]