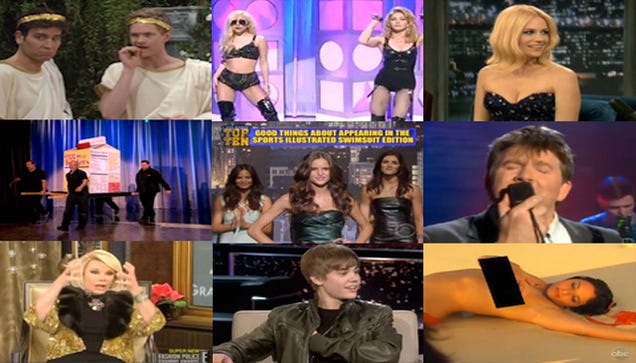 Today at Gawker.TV, LCD Soundsystem's James Murphy talks with Stephen Colbert, Sports Illustrated models and topless bachelorettes, HIMYM crowns February 13th Desperation Day, and Conan O'Brien gets carried onto his stage in a carton of egg beaters.
Lady Gaga's "Born This Way" and Madonna's "Express Yourself" Played Simultaneously
Last night Lady Gaga visited Jay Leno to address the fact that her new single "Born This Way" sounds a lot like Madonna's "Express Yourself."
Conan O'Brien Parodies Lady Gaga by Being Carried onto Stage Inside of an Egg Beater
In an obvious play on Lady Gaga's entrance to the Grammy Awards, Conan was carried out by his crew at the top of his show last night. As he put it, it's his "Lady Gaga entrance with zero cholesterol."
January Jones Hates Valentine's Day Just as Much as You Do
You might think that a bombshell like January Jones would have other plans on Valentine's Day than making an appearance on Late Night With Jimmy Fallon. She finds the holiday to be "anti-climatic" and "always a let-down."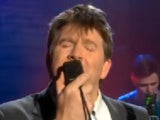 Justin Bieber Admits He's Not a Fan of Lady Gaga's "Weird" Outfits
Does Bieber have beef with Gaga? On Chelsea Lately, the teen heartthrob weighed in on Gaga's buzzworthy Grammy apparel, saying, "I don't know, like, people say it's artistic and stuff. I'm just like, 'you're an egg.'" Harsh words, Bieber!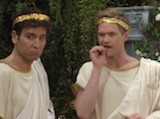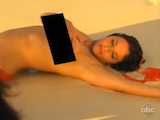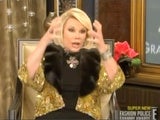 Supermodels From the 2011 Sports Illustrated Swimsuit Issue Read the Late Show's Top 10 List
Sure, they all kind of stumbled over the corny jokes written by the Late Show staff, but that's not really the point, is it? Enjoy the eye candy.