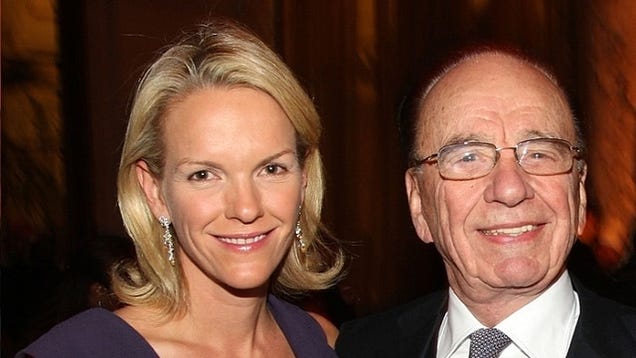 In your sleepy Monday media column: Rupert Murdoch is buying his daughter's company, CBS News gets set for new management, MSNBC's branding geniuses speak, and an AOL resignation.
News Corp says it's reached an agreement to buy the TV production company Shine. Here's how the negotiations went: RUPERT MURDOCH: Hello my daughter Elisabeth, who runs Shine. How would you like $673.5 million, and I'll buy your company and you'll still run it and also you'll be working for me, your dad? This would help consolidate the Murdoch family's power at News Corp for years to come.
ELISABETH MURDOCH: Okay.
CBS News' new management team starts tomorrow! We'll be keeping an eye on you, guys! I mean, if you make CBS News worth watching. Then we will.
Here's a story about the ad geniuses who came up with MSNBC's new slogan, "Lean Forward." They seem very pleased with themselves.
On Friday, longtime Engadget editor Paul Miller resigned over AOL's stated plan to turn all employees into robots. Noble.
[Photo: Getty]