Ted Williams gets a TV series, James Franco's rejected song for the Oscars, more remixes of Justin Bieber getting shot on CSI, and the Jeopardy! porn parody you don't want to see.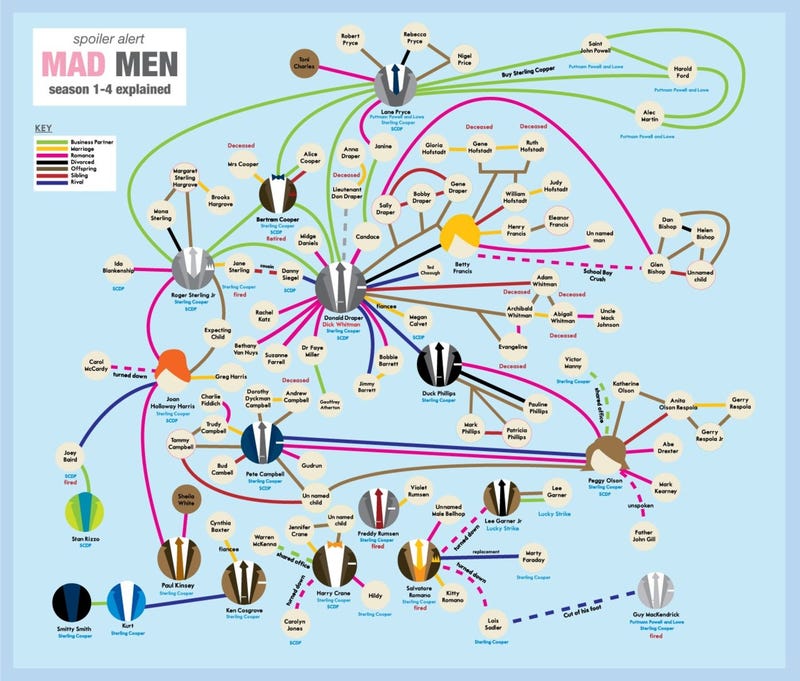 ABOVE: A handy (yet complicated!) chart of everything that's happen on Mad Men so far. Click to to see the chart in its entirety. [Flavorwire]
What's New on TV Tonight
8 PM — 9 PM
FOX: Glee
CBS: NCIS
NBC: The Biggest Loser
ABC: No Ordinary Family
The CW: One Tree Hill
Comedy Central: Onion SportsDome
9 PM — 10 PM
ABC: V
FOX: Raising Hope
The CW: Hellcats
PBS: Frontline
TLC: What Not To Wear
Discovery: Dirty Jobs
CBS: NCIS: Los Angeles
Food Network: Cupcake Wars
Travel Channel: Bizarre Foods with Andrew Zimmern
History Channel: Only in America with Larry the Cable Guy
WE: Joan and Melissa: Joan Knows Best?
10 PM — 11 PM
CBS: The Good Wife
Comedy Central: Tosh.0
NBC: Parenthood
USA: White Collar
TNT: Southland
FX: Lights Out
ABC: Primetime: What Would You Do?
Bravo: The Real Housewives of Miami (series premiere)
Tonight's Late Night Guests
The Daily Show: Anderson Cooper (Comedy Central)
The Colbert Report: Bing West (Comedy Central)
Conan: Matthew Perry, Mike "The Situation" Sorrentino, Jason Aldean (TBS)
Lopez Tonight: Martin Lawrence, Jared Leto, 30 Seconds to Mars (TBS)
Chelsea Lately: Irina Shayk (E!)
Jimmy Kimmel Live: Cameron Diaz, Henry Winkler, Cake (ABC)
The Tonight Show with Jay Leno: Owen Wilson, Rachel Maddow, Anberlin (NBC)
Late Night with Jimmy Fallon: Jeremy Irons, the Farrelly Brothers, Destroyer (NBC)
Late Show with David Letterman: Amy Poehler, Dusty the Cat, Deerhunter (CBS)
Late Late Show with Craig Ferguson: John Waters, Malin Akerman (CBS)
In TV News...

Ted "Golden Voice" Williams has got himself a TV show now! It's called Second Chances at Life and will be shot in three places: his hometown of Brooklyn, Ohio (where he was homeless) and Los Angeles—where he's now famous. [TMZ]
The song playing in the background of the club scene in last week's 30 Rock was actually a song Tina Fey recorded herself (in the style of Joni Mitchell.) [ONTD]
The L.A. Times wrote a long piece about "the bold, crazy world of Adult Swim." [Los Angeles Times]
Rob Corddry has been cast on a pilot with Paula Marshall called Little in Common. The comedy comes from Veronica Mars and Party Down creator Rob Thomas. [Deadline]
Diana Ross will sit down with Oprah for a chat that will air on February 25th. Her children and grandson will also appear on the show with the singer.[TV Guide]
SyFy has picked up the rights to Terminator: The Sarah Connor Chronicles. They'll run four hours of the show on Thursdays and all episodes will be available online on April 7th. Inside TV]
America's Next Top Model's 16th cycle begins tomorrow! Here's why the show is still worth watching. [TV Squad]
Last night on twitter, James Franco sent out a link to a song that was supposedly cut from Sunday's Oscars broadcast. It's probably the worst version of Cher's "You Haven't Seen the Last of Me" we've ever heard... so add this to the list of things James Franco can't do. [Movieline]
Somebody thought it was necessary to make a XXX Jeopardy! porn parody. There's no sign of Watson, though—perhaps he'll make a cameo in the sequel. [Warming Glow]
Around the Web...

Here's Safe-For-Work proof that The King's Speech was filmed on a gay porn set. [Vulture]
Britney Spears didn't actually make much money from all of the product placement in her "Hold It Against Me" video. [Vulture]
New summer concert festival alert! The Governors Ball, which will take place on New York's Governors Island and will possibly include sets from Big Boi, Pretty Lights, Empire of the Sun, Girl Talk, Neon Indian, People Under the Stairs, Mac Miller, and Passion Pit. [Vulture]
Don't you worry about Justin Bieber's recently-chopped off golden locks! He's donating it to charity. [Vulture]
Speaking of Justin Bieber, here's a ton of remixes of his scene from CSI where he gets shot to death—which just may be the greatest gift that show has ever given to the internet. [Warming Glow]