Rosie O'Donnell and Oprah reportedly butt heads over programming at OWN, IFC renews The Increasingly Poor Decisions of Todd Margaret, Michael Ian Black shot a pilot, X Factor audition dates, and Jersey Shore's Angelina has signed with TNA Wrestling.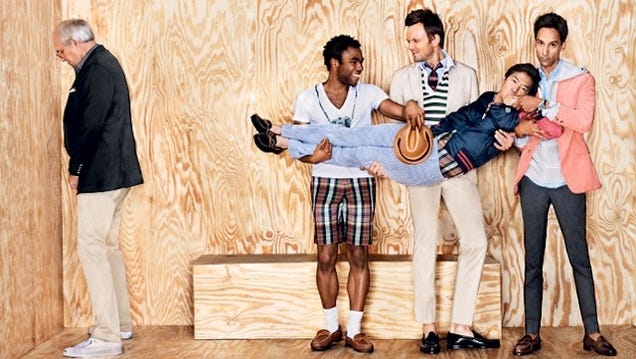 ABOVE: The male leads on Community get all dolled up for GQ. [GQ via Splitsider]
What's New on TV Tonight
8 PM — 9 PM
ABC: Wipeout
CBS: The Big Bang Theory and Rules of Engagement
NBC: Community and Perfect Couples
FOX: American Idol
The CW: The Vampire Diaries
9 PM — 10 PM
CBS: CSI
ABC: Grey's Anatomy
NBC: The Office and Parks and Recreation
USA: Royal Pains (Season Finale)
The CW: Nikita
Discovery: Man vs. Wild
Bravo: Million Dollar Listing
HGTV: Selling New York
TruTV: World's Dumbest...
10 PM — 11 PM
ABC: Private Practice
CBS: The Mentalist
NBC: 30 Rock and Outsourced
USA: Fairly Legal
MTV: Jersey Shore
FX: Archer
Tonight's Late Night Guests
The Daily Show: Austan Goolsbee (Comedy Central)
The Colbert Report: Glenn Greenwald, Mike Huckabee (Comedy Central)
Conan: Cory Monteith, Stephen Merchant, Kumail Nanjiani
(TBS)
Lopez Tonight: (TBS)
Chelsea Lately: Jason Sudeikis (E!)
Jimmy Kimmel Live: Owen Wilson, Kelly Ripa, Adele (ABC)
The Tonight Show with Jay Leno: Meredith Vieira, DJ Pauly D, Hanson (NBC)
Late Night with Jimmy Fallon: Nicole "Snooki" Polizzi, Martin Bashir, Laurie Anderson (NBC)
Late Show with David Letterman: Sen. Rand Paul, Bright Eyes (CBS)
Late Late Show with Craig Ferguson: Forest Whitaker (CBS)
Last Call With Carson Daly: Fred Armisen, David Seidler, Broken Bells (NBC)
In TV News...

The timing on this seems almost too perfect: Carmelo Anthony and wife La La Vazquez are currently filming a reality show for VH1. [TV Squad]
Simon Cowell's X Factor has announced the audition dates around the country, all slated for this fall. [TVLine]
Melinda Clarke is returning to CSI as Lady Heather in an April episode. [TV Squad]
Drama at the OWN network! Apparently, Rosie O'Donnell and Oprah aren't quite seeing eye-to-eye about the tone of Rosie's new show. [Pop Eater]
Ricky Gervais has written an opening dialogue for James Franco and Anne Hathaway to say at The Oscars. Not a shocker—it's hilarious. [Rickygervais.com]
In honor of his one-year twitter anniversary, Conan O'Brien is searching for someone to write his twitter bio for him. [GeekSugar]
Michael Ian Black took to his tumblr to let us know that he just shot a pilot for E! called The Black List. He also just finished the first draft of his second book and his about to shoot a new Comedy Central special. My, things certainly are turning up "Black!" [Michael Ian Black]
Fox has renewed Hells Kitchen for two more years. [Inside TV]
Will Arnett and David Cross work together yet again! IFC renewed The Increasingly Poor Decisions of Todd Margaret for another season. As long as this doesn't delay filming for the Arrested Development movie, let's consider this good news. [IFC]
Ouch TBS canceled Glory Daze after only one season. [Deadline]
Jersey Shore's Angelina has reportedly signed a deal with TNA Wrestling and will be in a tag-team match with Cookie as her partner. [TMZ]
Michael Chiklis will debut a song that he wrote and recorded in his own house in the March 1st episode of No Ordinary Family. [Inside TV]
Chandra Wilson will direct the 20th episode of Grey's Anatomy this season. It'll be her second time directing an episode for the show. [TV Guide]
MTV is planning a new awards show for digital music called the OMA's. [Vulture]
Around the Web...

The first trailer for The Hangover 2 is out! [BuzzSugar]
Katie Couric is penning a book of essays to raise money for scholarships. It will be called The Best Advice I Ever Got: Lessons From Extraordinary Lives. [New York Times]
Jack White says he has no plans to be in another band. [TwentyFourBit]
Listen to a new song from TV on the Radio called "Will Do." [SoundCloud]
Here's a pug wearing pug slippers. [Laughing Squid]
Hollywood is remaking The Bodyguard. But why? [The Daily What]
Why save PBS? Here's an infographic that should help make sway you if you don't already want to save the channel. [PBS]
Here's a look at the lost roles of NewsRadio—bet you didn't know that Ray Romano was up for Joe Rogan's role! [Splitsider]