Plenty of Two and a Half Men speculation, changes at the OWN network, all of NBC's spring finale dates and a Charlie Sheen browser-blocker for those who are sick of hearing about it.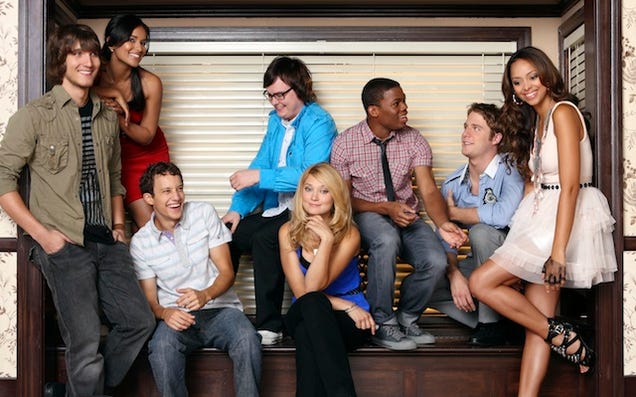 ABOVE: The cast of Greek, looking happy, before the show bit the dust. Did you tune into last night's finale? In case you missed it, here's a recap of everything that went down.
What's New on TV Tonight
8 PM — 9 PM
FOX: Glee
NBC: The Biggest Loser
Comedy Central: Onion SportsDome
9 PM — 10 PM
ABC: V
FOX: Raising Hope
Discovery: Dirty Jobs
Food Network: Cupcake Wars
Bravo: Million Dollar Listing
HGTV: My First Place
TLC: What Not To Wear
Travel Channel: Bizarre Foods With Andrew Zimmern
History Channel: Only in America With Larry the Cable Guy
Cooking Channel: United Tastes of America
WE: Joan & Melissa: Joan Knows Best?
10 PM — 11 PM
ABC: Detroit 1-8-7
USA: White Collar (season finale)
TNT: Southland (season finale)
FX: Lights Out
Bravo: The Real Housewives of Miami
Comedy Central: Tosh.0
BBC America: Law & Disorder in Johannesburg
Current: Kill It, Cook It, Eat It
OWN: Our America With Lisa Ling
Tonight's Late Night Guests
The Daily Show: Brian Christian (Comedy Central)
The Colbert Report: Dan Sinker (Comedy Central)
Conan: Nigel Marven, Gary Oldman, Drive-By Truckers (TBS)
Lopez Tonight: Aaron Eckhart, Malin Akerman, Eric Andre (TBS)
Chelsea Lately: Henry Rollins (E!)
Jimmy Kimmel Live: Kim Kardashian, Alex Trebek, One eskimO — repeat (ABC)
The Tonight Show with Jay Leno: Randy Jackson, Jennifer Lopez, Ryan Seacrest, Steven Tyler, Dan Ahdoot, Diane Birch — repeat (NBC)
Late Night with Jimmy Fallon: Jennifer Aniston, Piers Morgan, Carla Hall — repeat (NBC)
Late Show with David Letterman: Justin Bieber, Pauley Perrette, Best Coast — repeat (CBS)
Late Late Show with Craig Ferguson: Topher Grace, Catherine Deneuve (CBS)
In TV News...

NBC just announced their Spring finale schedule, and Parks and Recreation, The Office and Community will all get hour-long finales. [TVLine]
Oprah Winfrey's OWN Network is considering some scheduling and programming changes—likely because of their less-than-stellar ratings. [New York Post]
Here's a trailer for Stone Cold Steve Austin's hosting-duties in Tough Enough. [Inside TV]
Here's how to play the most depressing Two and a Half Men drinking game. [TV Squad]
Related—10 replacements that would make us actually tune in to Two and a Half Men. [Vulture]
Fans of quality-but-old programming have taken to TV Land's facebook wall to complain about the type of shows they air. [Inside TV]
20 great moments from Liquid Television. [Topless Robot]
So, where are all of the Two and a Half Men fans anyway? [Deadspin]
The season finale of Southland airs tonight—but will it be the series finale, too? [TVLine]
Around the Web...

A comprehensive list to all of the pop culture references on Donald Glover's Childish Gambino record. [Movieline]
The ten best celebrity twitter pictures. [Best Week Ever]
The government is after Martin Scorsese for tax evasion—guess the New York Post headline! [Best Week Ever]
John Cusack has signed on to star in a "screwball comedy" called Dictablandia. [Splitsider]
Ah, so that's how they do it—the mystery behind how and why Twitter verifies accounts. [Speakeasy]
Amy Poehler and Isla Fisher will write and star in Groupies. I think I just became a "groupie" of this non-existent movie already! [Splitsider]
New details have emerged about Shel Silverstein's new book—due out in September. [LA Times]
Why do so many movie trailers debut on Apple's website? [/Film]
Sick of all the Charlie Sheen coverage? Download the Charlie Sheen browser blocker! [The Daily What]
Even if you do use that browser-blocker, you'll likely see ads for the new Tiger Blood energy drink. Sigh. [The Hollywood Reporter]