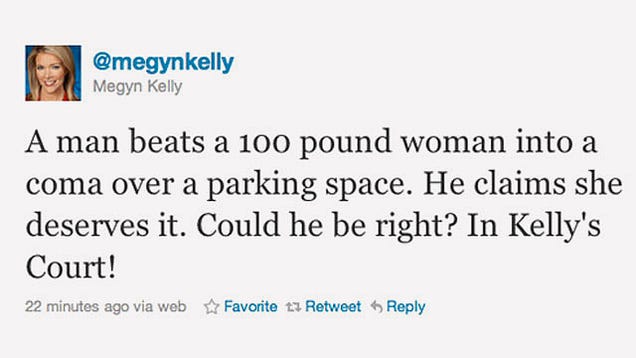 Fox News reporter Megyn Kelly has a question: "A man beats a 100 pound woman into a coma over a parking space. He claims she deserves it. Could he be right? In Kelly's Court!" Never have so many wrongs been contained in the space of a single tweet. Let us count them:
1. Blaming the victim wrong.
2. Unfortunate timing given that today is International Women's Day wrong.
3. Last sentence reads like an affirmative answer to question that precedes it, thereby creating an undesirable message, wrong. Could he be right? Sure! I mean, in Kelly's Court, at least.
4. Factually wrong: Oscar Fuller never said Lana Rosas "deserved" to be beaten into a coma. His excuse is that "she hit first" and he hit her back "out of reflex."
Two wrongs don't make a right, but could four wrongs make a good segment for Fox News? Find out tonight, in Kelly's Court! [@MegynKelly]