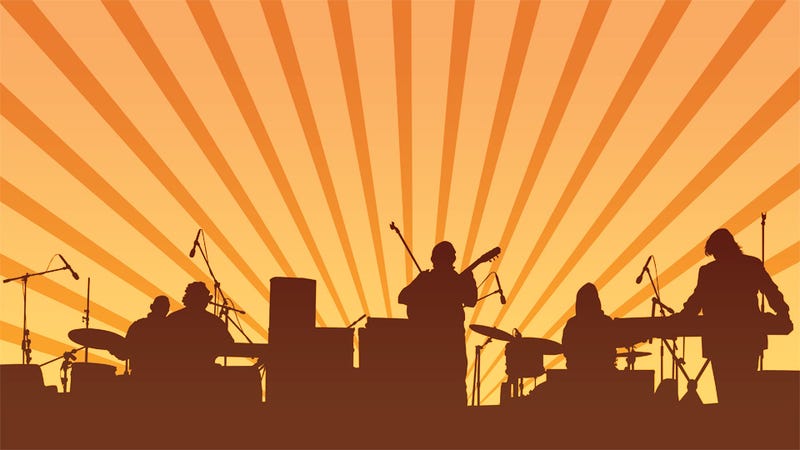 The music festival component of South by Southwest kicks off this Wednesday in Austin, where record company people, media, sponsors, and probably Bill Murray will spend the following four days in delirious pursuit of the event's hottest commodity: buzz.

Of the 2,000 or so bands scheduled to perform, a handful have spent the past few months steadily accumulating blog and word-of-mouth hype. Making a good impression here will be an important early step in their ascent (after that, it goes: song placement in Virgin Mobile commercial, appearance on next Twilight soundtrack, Kanye West sample/collaboration). So in honor of the year—but really because it was so hard to narrow it down to ten—here are 11 essential buzz bands playing at SXSW 2011.
Dom
These lo-fi rockers from Dennis Leary's hometown of Worcester, Mass., formed in early 2010. Less than six months later, NME was calling them one of the best bands of the year. Part of the laid-back "chillwave" movement associated with groups like Wavves and Toro Y Moi, they gained notoriety for their Craigslist antics (soliciting actors for a soft porn film, for one) and catchy songs. Their best-known song is the patriotism-in-cheek "Living In America," which they later remixed with mentally unstable rapper Gucci Mane.

Video: "Living In America"

Odd Future

Odd Future (which is short, of course, for Odd Future Wolf Gang Kill Them All), is an L.A. rap collective that's been everywhere since catching fire on message boards last fall. A spread in Spin's Next Big Things 2011 issue, a tweet-out from Kanye West, a scary performance on Late Night With Jimmy Fallon, a Funny or Die skit opposite Paul Scheer, the cover of Billboard, and plans for an Adult Swim pilot all followed. With their depraved rhymes and dystopic beats, they're often compared to early Wu-Tang Clan (though between you and me and the Internet, Ghostface Killah probably peed his pants the first time he heard them).

Video: Odd Future's appearance on Fallon.

Twin Shadow
Brooklyn-by-way-of-Florida-by-way-of-the-Dominican-Republic's George Lewis Jr. is often thought of as a soulful Morrissey singing over Depeche Mode-ish production. His debut album, Forget, was produced by Chris Taylor of Jay-Z's favorite indie rock band, Grizzly Bear, and received an 8.4 on Pitchfork in November. With its uptempo melancholy, it's the perfect music for a good cry on the dancefloor.



Video: Slow

Glasser
Cameron Mesirow's project Glasser was genetically predestined – the stylish musician is the daughter of a member of Blue Man Group and a '70s new wave singer. Her sleek, serene debut album Ring was widely acclaimed upon release in September, generating comparisons to electronic balladists like Bat For Lashes and Bjork. She DJed multiple gigs at New York Fashion Week, appeared on the cover of Fader's Fall Fashion issue, and her music sounds like something you'd hear during a sex scene in a Sophia Coppola movie.

Video: "Mirrorage"

La Sera
French for "the will" according to Google Translate, La Sera is the new '50s-inspired side project Katy Goodman of the Brooklyn trio Vivian Girls. A gentler, ghostlier version of her original group written over the course of two weeks, the band's self-titled debut was praised last month by tastemaking bloggers, who described the music with adjectives like "lovely" and "wonderful."

Video: "Hold" (live as part of Incase's Room 205 series)

The Naked and Famous
Auckland-based five-piece The Naked and Famous is the first act from New Zealand to top its own country's charts in three years. Their debut album, Passive Me, Aggressive You, earned rave reviews in the UK press last week – though with a sound that encompasses every current trend in indie rock almost too perfectly, how could it not? Picking up from where MGMT's first album left off, their single Young Blood is a perfectly designed piece of thumping dance rock, fuzzy synths, incandescent hooks, and a video that looks like an Urban Outfitters catalog come to life.

Video: "Young Blood"

OFF!
Sometimes us music writers will see an act like OFF!, which is comprised of veterans from Black Flag, Burning Brides, Rocket From The Crypt and Redd Kross, and be tempted to use a facile descriptor like "supergroup." Signed to VICE Records (instant cred) last fall, the Sacramento band's recent album First Four EPs has been noted for its no-bullshit punk rock purism.

Video: "Black Thoughts"

Cults
It's a buzz band narrative as old as time: group (usually from Brooklyn) innocently posts some demos online "for their friends" and – oops! – unwittingly generates a huge following. Such was the case last year with Cults, in spite of their trendily ungoogleable name. While other bands have been slogging it out for decades, playing to empty rooms and splitting Cup Noodles five ways every night, this charming group was snatched up with the quickness – Lily Allen signed them to her label In the Name Of, distributed through Sony, in January. Sellouts.

Video: "Oh My God"

Lil' B
Swag: the word is a mantra for 21-year-old rapper Lil' B. The Berkeley rapper spent the past few months taking the internet by storm with inexplicable, mumbling odes to Ellen DeGeneres, Paris Hilton and Justin Bieber, where every line ends with a declarative "swag." Along with Waka Flocka Flame and Gucci Mane, he's an important member of hip-hop's new dunce-rap faction. His "Cooking Dance" is the biggest choreographed craze since's Soulja Boy's "Crank That." Swag.

Video: "Wonton Soup"

Yuck
The members of Yuck are probably too young to remember the early 90s, which makes the London band's fidelity to early alt-rock so impressive. Last month, their self-titled first album was acclaimed for adopting the muddy sound of indie pioneers like Dinosaur Jr., Yo La Tengo and Sonic Youth without being too derivative.

Video: "Rubber"

James Blake
Classically trained at Goldsmiths, University of London (which I imagine is like Hogwarts without the wizardry) this dubstep producer gained attention reworking songs by Lil Wayne and Joni Mitchell. With its earnest vocals and pulsating bassline, the Feist cover from his self-titled debut has reached over 4 million hits on the popular Internet video website YouTube. In January, he came second in the BBC's Sound of 2011 critics poll. He was beaten by Jessie J, who co-wrote Miley Cyrus's "Party In The USA" and sings with an affected Jamaican accent.

Video: "Limit To Your Love"

[Illustration via Shutterstock]