Andy Cohen promises no more Real Housewives series, Glee flocks to New York City, Adult Swim announces a college tour and a spoiler about Shirley's baby on Community!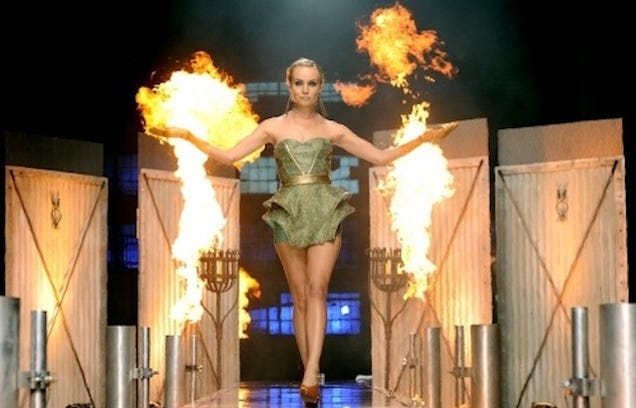 ABOVE: The models will walk down a runway filled with fire on tonight's episode of America's Next Top Model. What will Tyra have them do next?! [The CW]
What's New on TV Tonight
8 PM — 9 PM
CBS: Survivor
NBC: Minute to Win It
FOX: American Idol
The CW: America's Next Top Model
9 PM — 10 PM
CBS: Criminal Minds
Syfy: Ghost Hunters
A&E: Dog the Bounty Hunter
History Channel: Underwater Universe
The CW: Shedding for the Wedding
TBS: Are We There Yet?
10 PM — 11 PM
FX: Justified
ABC: Off the Map
MTV: The Real World
Bravo: Top Chef All-Stars
Syfy: Face Off (season finale)
CBS: Criminal Minds: Suspect Behavior
TV Land: Hot in Cleveland and Retired and 35
TLC: Hoarding: Buried Alive
Spike: 1,000 Ways to Die
Tonight's Late Night Guests
Conan: Ricky Gervais, Kaitlin Olson, Cheap Trick — repeat (TBS)
Lopez Tonight: Justin Timberlake, Stephen Dorff, Ciara — repeat (TBS)
Chelsea Lately: Anna Faris — repeat (E!)
Jimmy Kimmel Live: Kristen Wiig, Adam Scott, the Wombats (ABC)
The Tonight Show with Jay Leno: Matthew McConaughey, Rizwan Manji, Michael Kosta (NBC)
Late Night with Jimmy Fallon: Amy Poehler, Tiger Woods (NBC)
Late Show with David Letterman: Steve Martin, Selena Gomez (CBS)
Late Late Show with Craig Ferguson: Seth Rogen, Brie Larson (CBS)
In TV News...

Adult Swim has announced a college tour that will include "games, swag, sideshow curiosities, food and indie rock." The featured indie rockers? Best Coast and Wavves. [Pop Candy]
Andy Cohen says that Miami is the last of the new Real Housewives cities, saying "I really feel like we're done." So, my dreams of seeing Real Housewives of Anchorage become a reality are dead then? [TV Squad]
Get it straight, people—Adam Levine, Christina Aguilera, Cee Lo Green and Blake Shelton are not judges on NBC's The Voice. Said the Maroon 5 singer, "I think it's less about being judgmental and more about helping the singers out. That's kind of a dirty word, here on The Voice... Judge. Judging." [TV Guide]
Glee is heading to New York City for an episode. But only one episode, phew! [TV Guide]
John Lithgow talks about playing Barney's real father on How I Met Your Mother. He'll first make an appearance on March 21st. [Zap2it]
ABC's Extreme Makeover spinoff—ever-so-cleverly titled Extreme Makeover: Weight Loss Edition—will premiere on May 30th. [TV Guide]
Shirley will, in fact, have her baby before the end of the season on Community. As for who the father is? That should be revealed, too—with sources at the show saying that you'll be able to clearly tell by the baby who the father is. I'm voting for Team Chang! [TV Squad]
Where to watch retro TV shows—besides TV Land. (Let's hear it for The Hub!) [TV Squad]
SyFy has renewed Face Off for a second season. [Inside TV]
The 16 most accomplished "real women" in TV list includes Oprah Winfrey, Tina Fey—and a whole lot of morning news anchors. [TV Squad]
This is just speculation, but it's probably not the best sign in the world for Mad Men if Christina Hendricks has booked a movie to film over the summer and Rich Sommer has signed on to guest on Nikita. Get it together, AMC! [Pop Culture Brain]
Check out a clip from the new season of The Fabulous Beekman Boys, featuring Martha Stewart! [Inside TV]
Around the Web...

Playgirl is offering $10,000 to anyone who can provide them with a naked photo of Anderson Cooper. [TV Squad]
The 10 Coolest Time Machines in the Space-Time Continuum. [io9]
The Charlie Sheen venn diagram. [Buzzfeed]
The movie Sucker Punch has launched an animated short. [Coming Soon]
Aww—50 photos of basset hounds running. [Best Week Ever]
Steve Martin has released a second bluegrass album. [Billboard]
See the cover of a romance novel come to life! [The Hairpin]
What happens when you watch some famous movies and television shows backwards? [If You Watch It Backwards]
Tim and Eric's Billion Dollar Movie has landed a distributor. Hooray! [Coming Soon]