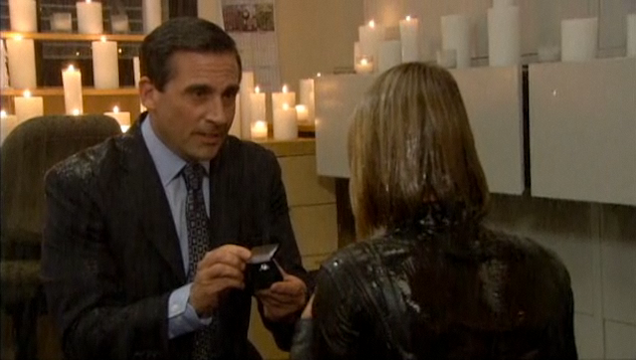 ABOVE: The Office knocks it out of the park with a silly-yet-tender proposal in last night's episode. I cried a second time when I visited NBC's site to take the above screengrab. If you missed it, catch up here.
What's New on TV Tonight
8 PM — 9 PM
ABC: Shark Tank
NBC: Who Do You Think You Are
FOX: Kitchen Nightmares
PBS: Washington Week
Syfy: WWE Friday Night Smackdown!
9 PM — 10 PM
NBC: Dateline
FOX: Fringe
HBO: The Ricky Gervais Show
BBC America: Law & Order: UK
TLC: Say Yes to the Dress
Teen Nick: Degrassi
10 PM — 11 PM
ABC: 20/20
Syfy: Merlin
IFC: Onion News Network
E!: The Soup and Fashion Police
Discovery: American Loggers
HBO: Real Time with Bill Maher
TLC: DC Cupcakes
Tonight's Late Night Guests
Jimmy Kimmel Live: Liv Tyler, Mark Cuban, Charlie Sheen, Brett Dennen — repeat (ABC)
The Tonight Show with Jay Leno: Jennifer Hudson, William H. Macy (NBC)
Late Night with Jimmy Fallon: Billy Crudup, Martha Plimpton, Reggie Fils-Aime, Cut Copy (NBC)
Late Show with David Letterman: Donald Trump, Vanessa Hudgens, Oh Land — repeat (CBS)
Late Late Show with Craig Ferguson: Topher Grace, Catherine Deneuve — repeat (CBS)
In TV News...

Chi McBride and Dave Foley will appear in the finale of How I Met Your Mother. What for?! [Zap2it]
This just seems all kinds of wrong: ABC is rumored to be courting Rihanna and Chris Brown so that they'll reunite on on Good Morning America. [Aol Music]
There a few reports that Archer will get another season—and if we're lucky, an order that spans into multiple seasons. [Vulture]
Maya Rudolph has joined the cast of Christina Applegate's NBC pilot, which supposedly may star Will Arnett as well. Not too bad! [Vulture]
I was pretty shocked—but super excited—to hear that Fringe has been renewed for a 4th season. [E! Online]
Selena Gomez will be the first to have a reality show on the Disney Channel—she's apparently shot a pilot already that's a lot lik Punk'd. [Hollywood Life]
Battlestar Galactica's Michael Trucco will head to How I Met Your Mother to play Robin's next love interest. [Ugo]
Is Norm MacDonald the best talk show guest ever? (Probably.) [Splitsider]
Comedy Central has ordered a pilot from Eastbound & Down producer David Gordon. [The Hollywood Reporter]
Bravo is adding a new "docu-series" to it's roster: Million Dollar Decorators. [NBC]
Justin Bruenig (who you may recall from the Knight Rider revamp and All My Children) has been tapped to play Steve Trevor on the new Wonder Woman reboot. [TV Squad]
Around the Web...

What's the next-best thing to an Arrested Development movie? A look back at 15 mini-reunions by the cast. [Splitsider]
It's a sign of the times: "lol" and "omg" have been added to the dictionary. [Digital Life]
Lady GaGa released a country version of "Born This Way." [Buzzfeed]
The Streets will score the new movie adaptation of The Inbetweeners. [Paste]
Lindsay Lohan is seriously considering dropping her last name. Why not just change it to LiLo? [Pop Eater]
Sweet: The Big Lebowski monopoly game. [Reddit]
No surprise here—Chris Brown's publicist has quit. [New York Post]
LCD Soundsystem will live-stream their last show at Madison Square Garden, for those who didn't get tickets. If you did get tickets to Wednesday's show... I'll see you there! [Pitchfork]