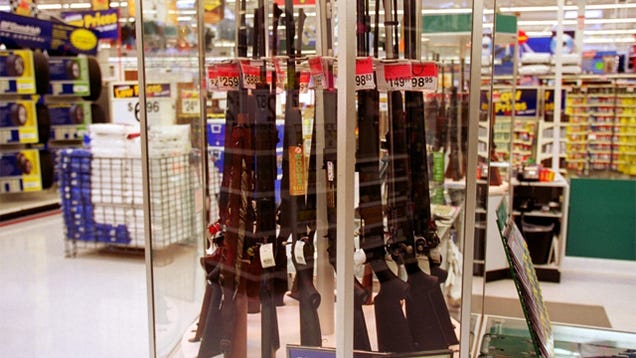 Despite having cornered the market on cheap crap, Wal-Mart just isn't as popular as it used to be. Not to worry. Wal-Mart knows exactly what you animals want: deadly weapons.
The world's largest retailer stopped selling hunting rifles and bullets at all but a third of its U.S. stores five years ago, citing diminishing sales. It is now restoring them to hundreds of locations, bringing the total to nearly half of its more than 3,600 U.S. namesake stores, as part of a larger push to restore "heritage categories" of merchandise such as fishing rods and bolts of sewing fabric that it removed in an attempt to go upscale that backfired.
Haha yes, shotguns are scarcely different from "bolts of sewing fabric," so I don't know what the big deal is. You kill your enemy with one and use the other to wrap their body for disposal in a shallow grave. Same dif.
Why is Wal-Mart always catering to terrorists?
[WSJ. Photo: Getty]