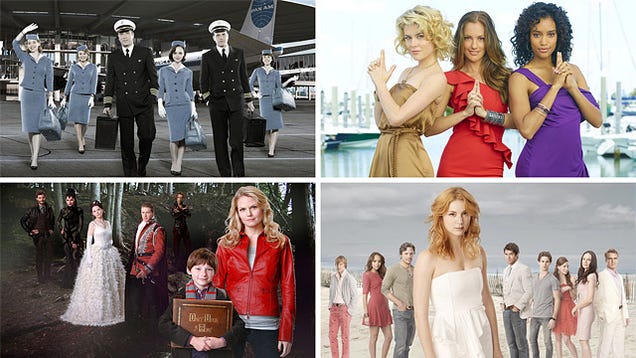 This week is the television upfronts, when all the networks roll out their new fall schedules to try to convince advertisers to spend their cash and fill their shows with all those pesky commercials we fast forward past. Here are all the goodies Fox and ABC have to offer.
We already saw what NBC came up with, let's take a look and see if Fox and ABC did any better. Here are all the new shows that are set to premiere this fall. CBS will make their presentation tomorrow and the ad buyers for Polydent are very excited.

Fox
Terra Nova
When: Mondays at 8pm
What Is This?: This much delayed Steven Speilberg project follows a family that goes from the distant future to the distant past to help a team of scientists figure out how to save the planet from economic ruin. Oh, and there are dinosaurs and lots and lots of cool special effects.
Will People Watch It?: Hell yes! This is guaranteed a huge premiere episode. Whether or not people stick around will depend on the writing.
New Girl
When: Tuesdays at 9pm
What Is This?: Zooey Deschanel breaks up with her boyfriend an moves in with three macho man roommates who try to teach her a thing or two about life, relationships, and getting herself laid.
Will People Watch It?: Zooey is a biggish star and this is an interesting and semi-original premise. However two of her roommates had to be recast because they're now on other shows. We'll have to see how that effects the dynamic.
I Hate My Teenage Daughter
When: Wednesdays at 9:30pm
What Is This?: Jamie Pressley and Broadway's Katie Finneran star as two mothers with monsterously evil teenage daughters. Jamie Pressley playing a mother of a teenager makes me feel old.
Will People Watch It?: I hope so. A sitcom about mothers hating their children is just rife for lots of subversive comedy. I'll certainly be tuning in, but mostly to tell those teens to get off my lawn.
Allen Gregory
When: Sunday's at 8:30pm
What Is This?: This joins Fox's animation-for-adults Sunday night. Jonah Hill gives the voice to a precocious rich kid who stoops to the level of attending public school. From the clip it looks to be just quirky enough.
Will People Watch It?: If they've kept The Simpsons and Family Guy on for a collective 794 years, then this new addition will fit in just fine.
X-Factor
When: Tuesdays and Wednesdays at 8pm
What Is This?: Simon Cowell, Paula Abdul, and some other people judge a bunch of singers and then you call and text in who you think is best until a winner is crowned. No, this is not American Idol. This is totally different.
Will People Watch It?: Sadly, yes.
ABC
Once Upon a Time
Pan Am
Last Man Standing
Man Up
Suburgatory
Revenge
Charlie's Angels