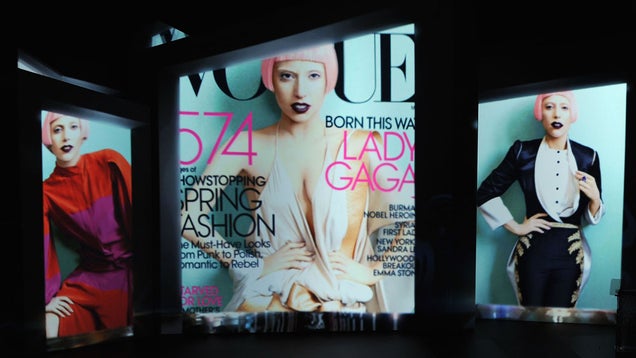 S
Last night was the Council of Fashion Designers of America Awards, which is like the Oscars of the fashion industry, except it wasn't televised, we didn't speculate about the winners for months on end, and there were even more gay men in attendance. Naturally, with anything fashion-related, there were a ton of wacky outfits. Let's look!
As for the awards themselves, there was a lifetime achievement award for Marc Jacobs (he's not dead yet, people!) and an icon award for Lady Gaga who showed off her blue wig and bare ass. She also told really cute story about her award:
She then revealed that when it was announced that the CFDA would honor her, Anna Wintour, the editor of American Vogue, sent her a congratulatory text message. Lady Gaga said she thought the text came from a friend of hers also named Anna, and so replied, "Yes, bitch, we did it!"

Gaga waited for the laughter to die down and added, "I got a reply that said, 'How lovely.'"
As for the other winners, Proenza Schouler won for women's wear, Michael Bastian won for men's wear, and Alexander Wang won for accessories. Prabal Gurung, Robert Geller, and Eddie Borgo won for best young womens' wear, men's wear, and accessories designers, respectively.
[Image via Getty]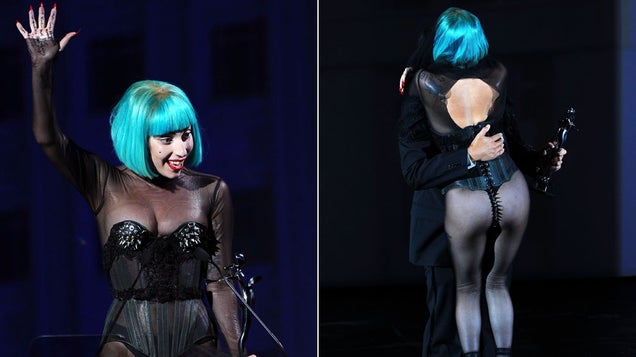 S
Here is Lady Gaga on the podium, from fore and aft. I wonder if she feels a draft.
[Images via Getty]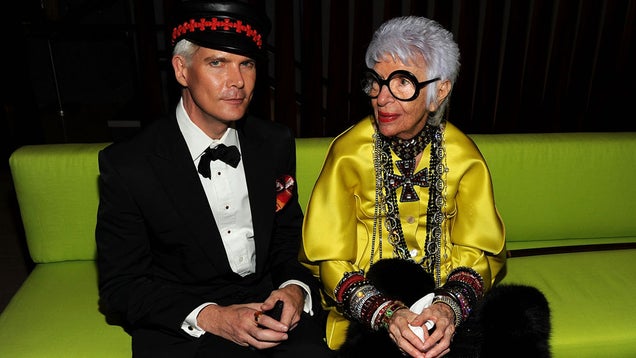 S
Iris Apfel, as the drag queens say, better work!
[Image via Getty]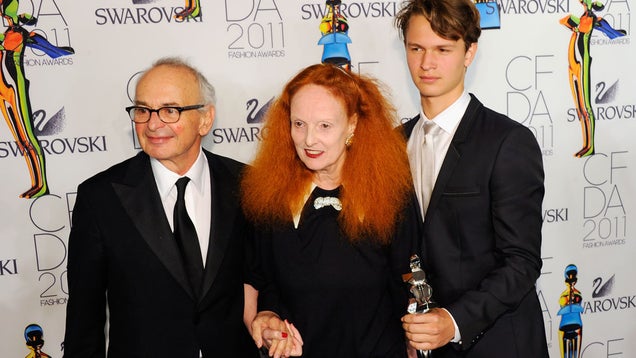 S
Vogue creative director Grace Coddington sandwiched between Arthur Elgort and the young man she hired to carry her trophy for the evening.
[Image via Getty]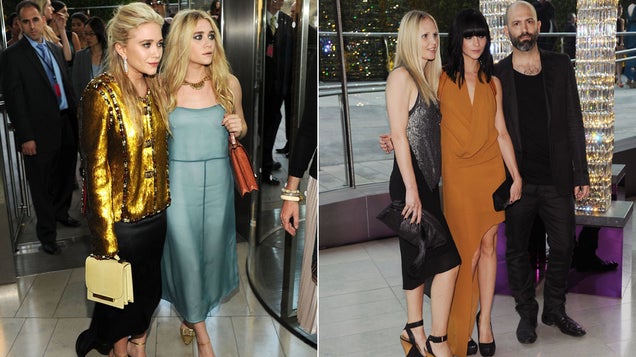 S
The Olsens and Leigh Lezark battle for the title of Princess Coldstare.
[Images via Getty]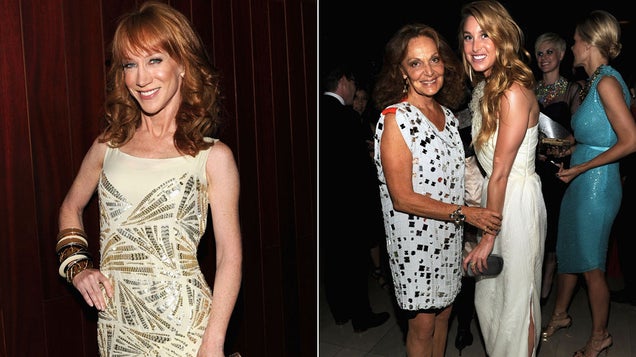 S
Former Gawker intern Kathy Griffin and Diane von Furstenberg with her former intern Whitney Port. Last night was all about success.
[Images via Getty]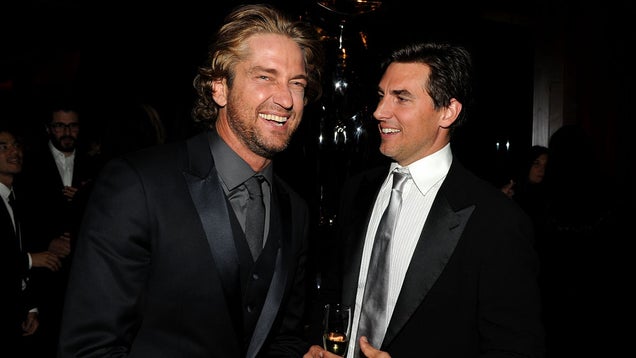 S
Who is this blond man and what did he do with Gerard Butler?
[Image via Getty]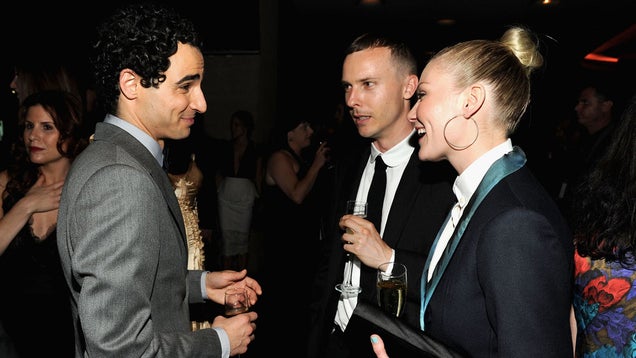 S
Zac Posen gives Kirsten Dunst major side eye when she says she's the best dressed at the event.
[Image via Getty]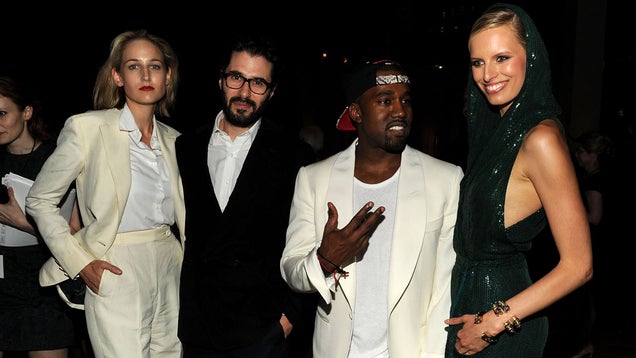 S
Standing between the ghost of Marlene Dietrich and Karolina Kurkova wearing her glamor hood, Kanye West had no clue what was going on.
[Image via Getty]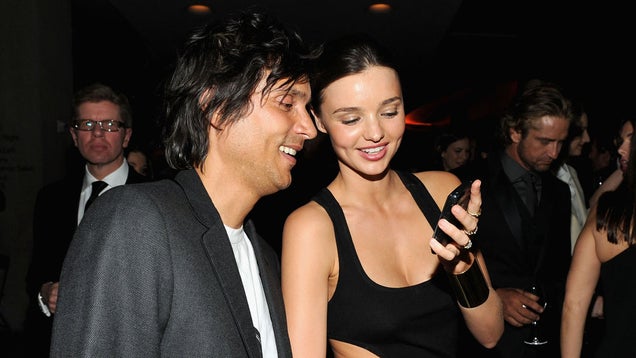 S
Everyone wanted to see the embarrassing photo Miranda Kerr had of Bar Refaeli.
[Image via Getty]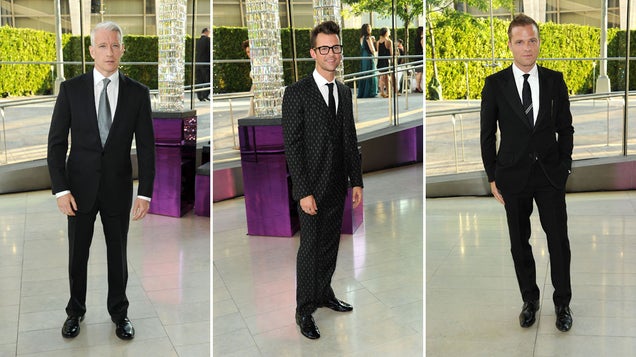 S
Anderson Cooper couldn't make it to the show, so he sent a wax statue in his stead. Reality TV fixture Brad Goresky looks gay good as always. And Simon Spurr proves yet again he's the hottest straight man in fashion.
[Images via Getty]
S
Fashion muse Daphne Guinness almost died when she saw fellow muse Michelle Harper biting her look.
[Images via Getty]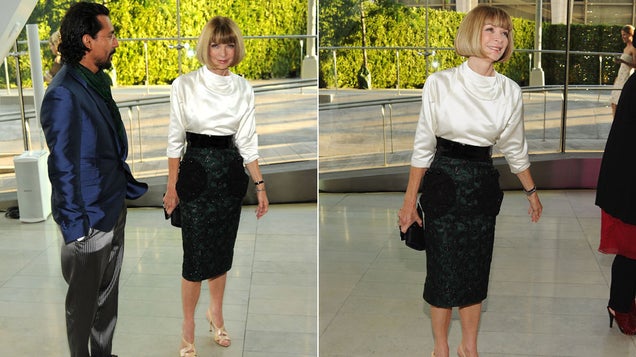 S
"Who is this man and what is he doing in my picture?"
"Oh, that's much better."
[Images via Getty]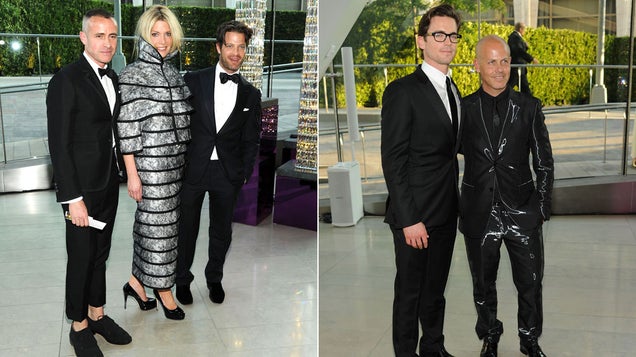 S
Designer Thom Browne and Nate Berkus brought a Victorian corpse. White Collar star Matthew Bomer brought a man dressed entirely in melted phonographs.
[Images via Getty]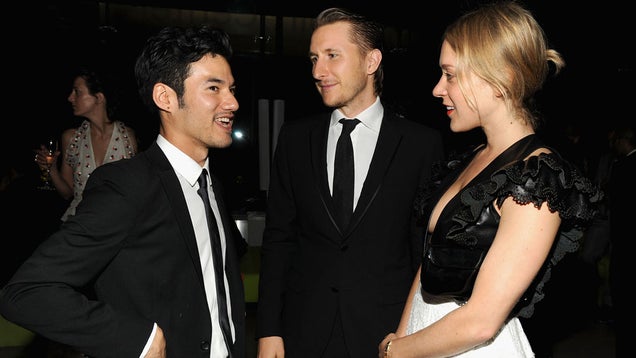 S
"Good evening, America. My name is Chloe Sevigny. Do you like my leather ruffles by fashion designer Joseph Alt-u-azzara? I thought you would!"
[Image via Getty]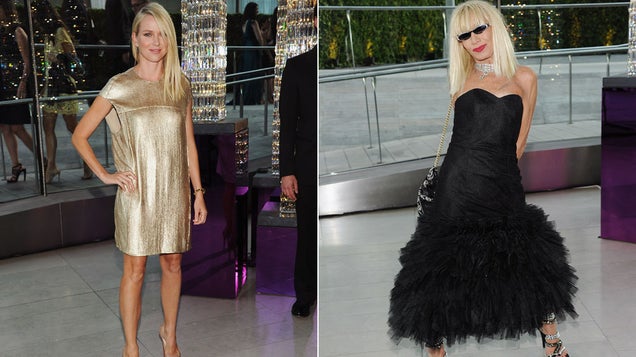 S
Naomi Watts needs to take a lesson from Betsey Johnson on how to show up at a fashion event.
[Images via Getty]