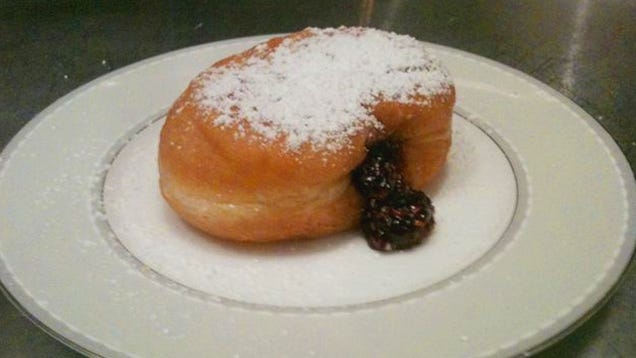 "Birds should not have to suffer for donuts." So argues vegan blogger Annie Hartnett, who has penned a petition protesting a menu offering at Brooklyn's Do or Dine restaurant: the foie gras doughnut, a high-end dessert running $11 per fatted-goose-liver-filled fritter. (To be clear, Do or Dine don't claim to have invented the foie gras doughnut, which has been popping up on restaurant menus around the country for several years.)
The petition has about 650 signatures so far, most of which condemn the confection as being nothing less than sugar-dusted animal cruelty.
Talking to Gothamist, Do or Dine chef Justin Warner had this to say:
"People all over the world are signing this petition, condemning us, telling us we're monsters, but the one percent of people who are actually coming here and eating them are pretty jazzed."
Someone has posted a counter-petition which claims that the only potential cruelty would be if Do or Dine were to "stop making them several times a day." It currently has ten signatures. [Gothamist, photo of foie gras doughnut via Gothamist]