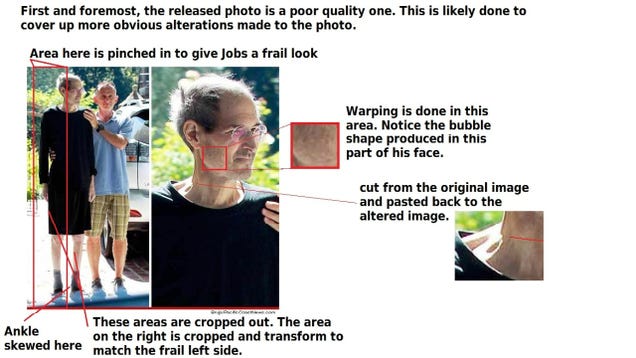 So maybe those tear-jerking pictures of Apple co-founder Steve Jobs looking withered and skeletal were not real after all? A skeptic over at Reddit posted this annotated image as "proof" that the pics of Jobs, who stepped down as CEO earlier this week, were manipulated to make him look worse off than he might appear in real life. [Update below]
We did not major in Photoshop in college, and therefore cannot give you an expert opinion on which photos you should believe in the most. Authentic or not, however, they don't take away from the fact that Jobs remains unwell. If only a hurricane could come along and blow the cancer out of his system.
Update: An email from a representative at Pacific Coast News, the agency credited with providing the photos to TMZ, states: "These have not been doctored in anyway, I can assure you, regardless what you may have read online."
[Image via Reddit]