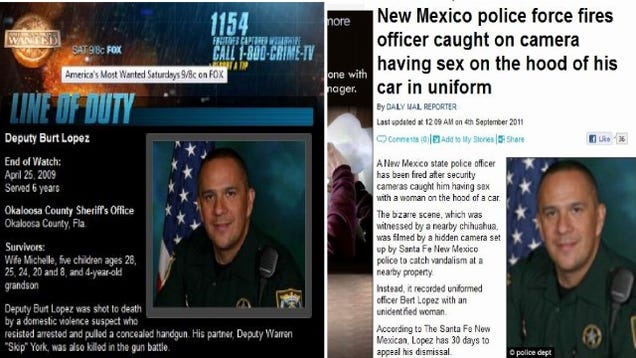 To illustrate its coverage on fired New Mexico sex cop Bert Lopez, the UK's Daily Mail uses a picture of a different—and deceased—Burt Lopez. How embarrassing! (Still not as embarrassing as being caught by surveillance cameras sexing ladies while still wearing your police uniform, though.)
The Burt (short for "Burton") Lopez featured by the Daily Mail was an Okaloosa County (Florida) Sheriff's Office deputy killed by a domestic violence suspect in 2009, the website for America's Most Wanted (the screen-capture on the left) tells us. "Deputy Lopez's wife, Michelle, said he was very focused on his family and loved to spend time with their five children and 4-year-old grandson. He had a passion for reading and aspired to write short stories and poetry after retirement." The same Lopez is honored on this online memorial to officers killed in the line of duty.
A photo of New Mexico's Bert Lopez can be found here.
[Daily Mail. Images via America's Most Wanted and the Daily Mail. Thanks to J.H. for the tip!]