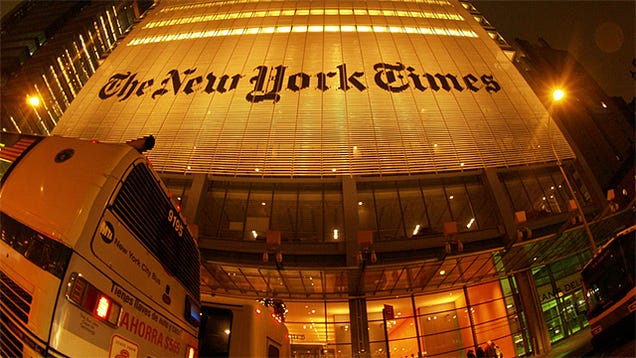 In your provocative Tuesday media column: the NYT's new Big City columnist gives us hope, Ted Turner vs. Rupert Murdoch, Utah newspaper standards war, the internet won't be free forever, and Cenk Uygur to Current TV.
You may or may not have noticed last Sunday, but Ginia Bellafante has taken over the "Big City" column in the New York Times Metro section. Why is this significant? Because her inaugural column, about the stark divide between rich and poor in NYC, was a firm declaration of CLASS WAR: "Among the echelons of the upper middle class, there is a smug pride often taken in the edgy address, as if poor people existed to lend the better off a veneer of adventurous chic. If this column has an agenda, it is, in part, to actively record the incongruities and hypocrisies that so easily attach to life in this city - to document, substantiate and contextualize them, to observe the lives and mechanisms of New York from their various and discordant vantage points."

That is so god damn heartening. She's declared war on the entire New York Times Style Section! (See point number four.) We fully expect Ginia Bellafante to single-handedly balance out the entire Rich Person Trend Story docket. Bellafante told us via email: "The Big City column is not now beginning. It has a long history and each columnist has defined it according to his or own interests. (I succeed Susan Dominus who is now at the magazine.) I come from the culture desk where I was a critic so I bring that sort of perspective with me and hope (very humbly!) to produce what will feel like an op-ed column about life in the city. Needless to say when I'm fresh out of ideas on any given week, I reserve the right to cover chapter 794 of the cupcake wars."

She added, "(Metro obviously acts independently from Styles so counteracting it or not is a complete non-issue.)" Don't be coy, Ginia. This is war! We are with you!
Ted Turner tells Bloomberg TV that he thinks Rupert Murdoch is going to have to step down due to the phone hacking scandal. "Who is Ted Turner?" replied Rupert Murdoch, before going off to do something that people who still run media companies do.
The current Utah newspaper standards uproar involves not only a transgressive college newspaper but also embarrassing Mormon standards of morality and sports mania. Read all about it!
WPP chief Martin Sorrell, one of the most powerful motherfuckers in the advertising industry, is all about getting you to pay for stuff on the internet now. "Free=fail," he says. Indeed, paying for stuff on the internet is the future! Get used to it everyone. You will, very soon.
Cenk Uygur, deposed former MSNBC host, is moving his show over to Current TV, where he'll be the lead in for fellow deposed former MSNBC host Keith Olbermann. Is Current TV the new MSNBC? Yes. But with fewer viewers.
[Photo via alextorrenegra/Flickr]