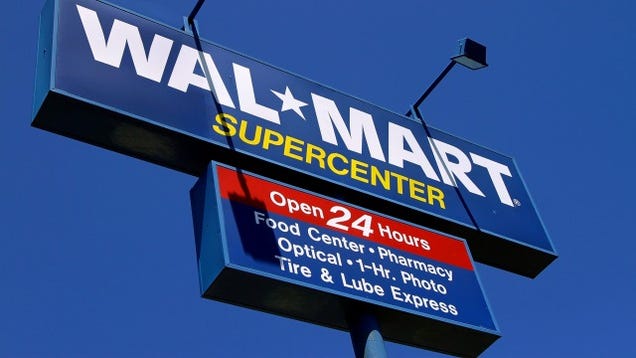 Two Baltimore women, whose relationship we'll describe as "strained," had a memorable encounter with each other at the Walmart this morning when one of the women either threw or poured bleach on the other. Maybe it seemed like the right thing to do at the time. Or they were filming a scene from a new John Waters movie? (No.)
The bleachy brouhaha prompted visits from the police, the fire department, 10 medic units, and a hazmat team and led to a store evacuation. Somehow 19 innocent bystanders got caught up in the mess, including one person who suffered a serious eye injury. Police arrested the alleged attack-bleacher, who also reportedly Pine-Sol'ed her victim. Her defense should be "I was only trying to help her remove that spot of blood from her shirt," or "Bleach is my new designer fragrance, and I was performing a demonstration," or "I am a fairy, and tossing Clorox is how I bless people."
A Walmart spokesman had this to say about the fight:
"This is obviously the type of behavior that we would not expect from people at our stores ... And we want to apologize for any inconvenience this may have caused other customers."
In other bleaching-at-Walmart news, a man poured bleach on some clothes at a Ukiah, California Walmart the other day, causing $12,000 worth of damage. Whoah, two bleach-related incidents in one week. Does this mean that bleach attacks at Walmart are becoming "a thing"? (No.)