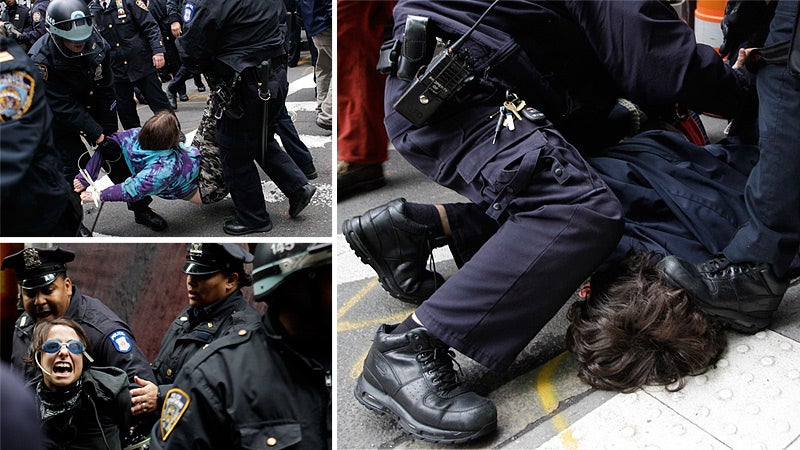 Things are heating up in lower Manhattan. Zuccotti Park was placed in "full lockdown" and police in riot gear sealed off the park after a scuffle with a protester caused a near-riot.
Hundreds of protesters are massing in Zuccotti Park as part of their November 17th day of action. So far, things have been way more tense than earlier demonstrations, with clashes down on on Wall Street this morning, and in Zuccotti this afternoon. Stay tuned for more updates, and check out the live stream.

5:41pm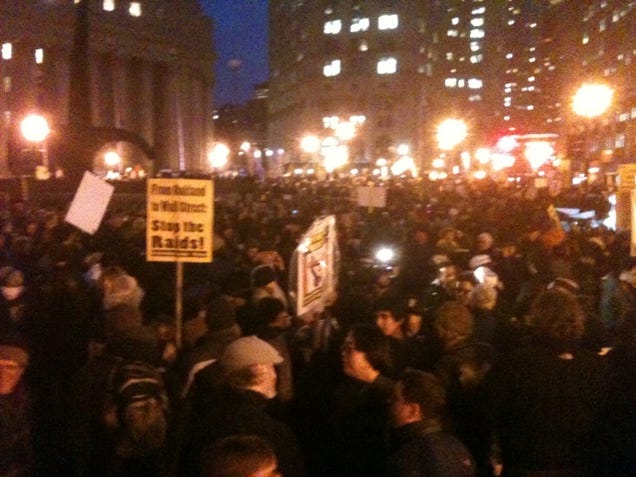 Foley Square near the Federal courthouse in Manhattan is completely full, with the Occupy Wall Street marches now joined by unions. Here's a blurry pic from FuelNYC. Estimated crowd size as high as 10,000.
5:07pm
Occupy Wall Street has left Union Square, and those protesters are marching to meet up in Foley Square, by City Hall, where a large grou[ of unions are already gathering. There have been a few more scuffles with police, but everyone seems to be behaving right now.
The big plan to occupy the subways didn't exactly set the world on fire. From the New York TImes:


Broadway Junction was one of 15 stations on Occupy Wall Street's afternoon itinerary during its "Day of Action."
At 3 p.m. on the platform, five protesters handed out fliers to a bustling, seemingly disinterested crowd. Upstairs, a larger group used the movement's signature call-and-repeat "People's Mic" technique to tell travelers who they were and why they were there. A number of curious passersby paused to watch, including a few giggling teenage girls who sang along.

4:15pm

Here's the scene at Union Square right now, including many non-Anne Hathaway protesters. Mayor Bloomberg just gave a press conference about the officer injured at Zuccotti Park; he said he was injured after a protester threw a "star-shaped" piece of glass at him. (Ninja protesters?) Bloomberg also seemed pretty disappointed in the turnout. He said the "real story" was that not many people showed up for the demonstrations. Come on, OWS, you're letting Bloomberg down.

[Image via Liliana Segura/Twitter]

3:34pm

So, hundreds of protesters have gathered at Union Square, where a student walkout has joined Occupy Wall Street protesters. It should—wait. OMG. Is that Anne Hathaway?? She's carrying a sign that says "Blackboards not Bullets."

One of the at least 175 arrested protesters was booked for throwing "vinegar-based liquid" on cops. Probably not balsamic vinaigrette.
Here's the whole itinerary for the impending occupation of the subway, which, despite reports, is not intended to "shut down" the system, according to organizers.

[Image via Elana_Brooklyn/Twitter]

2:43pm

Ouch. Here's a graphic photo of the guy cops beat after allegedly flipping a hat off of a police officer in Zuccotti Park. Protesters are currently marching up Broadway, to Union Square. [via TPB_Stun, click photo to view full-size]

2:36pm

More details on the earlier clashes: According to the Times the NYPD officer was cut in the hand with a piece of glass, "possibly a broken bottle," and will require stitches. The guy who was hit in the head had reportedly flicked a hat off the head of a police officer. (Seems to be a favorite tactic of protesters—I saw someone do that on the Brooklyn Bridge last month.)

2:16pm

Here's a screenshot from the livestream of a photo of the protester who got his head busted with a baton. Meta.

2:11pm

According to reports, an NYPD officer was stabbed in the hand, which may have sparked the crackdown. It seems at least one protester was hit in the head by cops. Police pushed protesters away from the center of the park inside Zuccotti, and across the street outside it. But now things have calmed down and they've unsealed the park. There's still an hour left until protesters plan to occupy the subway. [Image via Mtracey/Twitter]

[Photos, top, via AP]