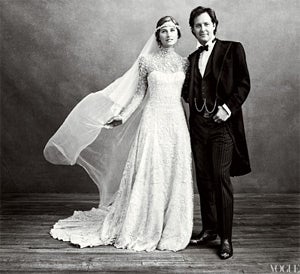 Vogue's documentation of Lauren Bush Lauren's fantasy pioneer chic wedding has finally arrived on the internet, and it's intense. The Republican heiress married the polo shirt heir at the Lifshitz family ranch in Ridgway, Colorado.
Stated goal:
"Rustic elegance," says Lauren, who was born in Colorado and lived there until she was eight, describing the feeling of the wedding. "A beautiful movie," David adds, "like you were riding across the Old West and you stopped in at a wedding."
End result:
The bride wore cowboy boots instead of delicate silk mules, as did her five bridesmaids, who were dressed in white linen blouses, vests, and vintage prairie skirts. "They looked like Little House on the Prairie," says Lauren.

I almost wore one of those during my last trip to the West, too, but then I tried to ford the river and the axle broke and my hand-embroidered tulle gown made with 3000 hours of labor fell off the wagon. You and me, LBL, birds of a feather. Regular gals kickin' back and gettin' hitched on the old homestead. [Vogue]