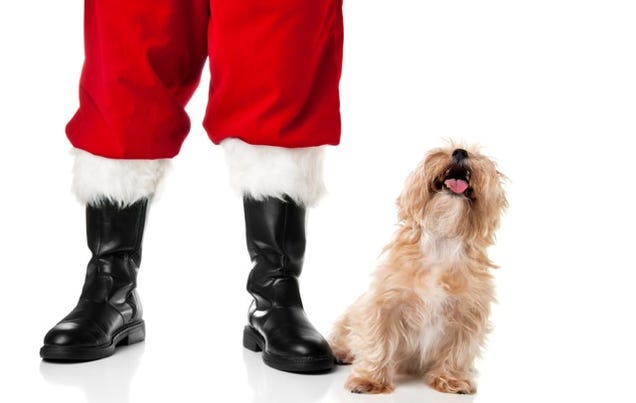 Don't be a fool and embark on a life of destitution after you finish your holiday shopping. Instead, be happy and carefree like the little dog (look up). The below list, inspired by the unbig (and unboring...and unpricey!) smart car, contains some pretty sweet gifts that all go for less than $50. And they're all, for lack of a better word, unboring.
Disguise your disgusting penchant for killing the book industry/fervent fingering of a supple eReader touchscreen with these cotton canvas covers that look like throwback book jackets. Classic covers like Lord of the Flies, The Master and Margarita, and The Naked Lunch are among the 20 available now for Kindle, Nook and iPad. >>>Buy<<<
This portable iPod/iPhone/laptop speaker is shaped like an adorable bird and fits in the palm of your hand. Its 2-watt amplified speaker gives 4 hours of sound on one charge of its rechargable battery. Bling optional. >>>Buy<<<
Sick of her bulky wallet, Brooklynite Kristen Wentrcek fashioned a primitive bill clip out of two credit cards and a rubber band. Then she refined her design into this lightweight aluminum self-compressing "wallet." It looks pretty, and its shock cord is perfect for holding a Metrocard. >>>Buy<<<
This 18 x 24 hand-signed print depicts a table of 303 "heavy metals" arranged according to genre. You have your Dagoba, your Slipknot, your Agoraphobic Nosebleed, the usual. And, yes, it's of course hand-crafted in Red Hook, Brooklyn, and uses only vegetable-based inks. Put a bird on it then stab it to death! >>>Buy<<<
Yes, this is exactly what you think it is: a cologne that smells like sweet, smoky BBQ sauce. It's called Que, is made by a BBQ company, and is "a hit among meat lovers, grill masters, and backyard BBQ'ers." One spritz and you'll set all three of these types to drooling, which is a good thing if you've ever had a thing for Guy Fieri. >>>Buy<<<
These 12 x 18 wall hangings feature NYC mass transit signage from the olden days. Not entirely sure that the designers of these understated station indicators ever imagined they'd be replaced by blinking scrolling screens of the future, nor that their signs would end up on the wall of some kid's Bushwick loft. But that doesn't matter now, because they are dead, and what they don't know won't kill them. Because they're already dead. >>>Buy<<<
This falls into the "Why hasn't anyone thought of this until now?" category of Apple product accessories: a tiny charging dock that lets you charge your iPhone or iPod with your existing USB Power Adapter. Plus, everything mini is cuter and saves space, so is therefore better. >>>Buy<<<
Man need handle fresh meat from kill. Man cannot grab fresh meet with bare hands! But man can grab fresh meat with bear hands! Okay, enough caveman crap. These meat-handling "bear paws" will help you lift and carve hot food, shred meat and chicken (**weird!**), and won't burn your actual paws off thanks to the stay-cool handles. >>>Buy<<<
Keeping soap in a dish is so last century. Use the power of science to dazzle and possibly confuse your dimmer friends with this magnetic soap holder. Insert a metal disc into the bar of soap of your choice, then affix the magnetized holder to a wall or mirror with the built-in suction cup. Voilà! Dangling soap. >>>Buy<<<
This plastic mustache keychain says "Well, hello there," when you press its button. It costs less that $7. Do you need any more information regarding it's awesomeness? Thought not. >>>Buy<<<
Happy holidays, friends. Unpriciness will be yours! Check out a bunch of other un- stuff and smart itself at smartusa.com.