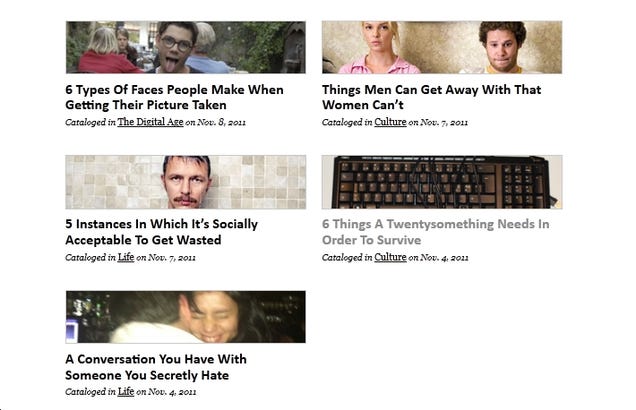 Thought Catalog, the Slate.com of urban 25-year-old creative writing majors (and their spiritual kin) who are incapable of being boring, is redefining the art of blog post writing for a new and vibrant generation. Today's "The Different Types Of People You See At The Gym" is but one example of the fresh, unexplored literary frontiers that they are, you know, exploring. What other types of posts can you find on Thought Catalog?
The Twentysomething Post
Examples: "How to be a 20-Something," "Six Outfits Every Twentysomething Should Have In Their Closet," "When A Twentysomething Feels Old," "Seven Things A Twentysomething Can't Do," "6 Things A Twentysomething Needs In Order To Survive."
Key takeaway: I am a writer between the ages of 20 and 29.
The Lovelorn Post
Examples: "The One Person You Never Really Get Over," "Things You're Left With After a Break Up," "The First Heartbreak," "Why I Can't Talk to the Person Who Knows Me Best," "It's Harder to Be The One Who Leaves."
Key takeaway: I have had a girlfriend or boyfriend at some point in my life.
The "I Have Sex" Post
Examples: "Sleeping With You In Someone Else's Bed," "What Happens When Guys Aren't In The Mood To Have Sex," "Things You Should Know Before You Sleep With Me," "I Want To Sleep With Every Single Person In The World," "The Different Types Of Sex You Can Have."
Key takeaway: I'm no virgin.
The Hate Post
Examples: "I Hate Liars," "I Hate It When People Change," "I Hate Coffee," "I Hate My Glasses," "I Hate Drunk People."
Key takeaway: I hate things.
The Post Which Imbues an Everyday Occurrence With Deep Emotional Significance
Examples: "I Got Wolf-Whistled At The Other Day," "Wednesday," "A Girl Walks Into a Bar," "Find Others Amid The Lost," "I Want to Go Home."
Key takeaway: There is more to my life than meets the eye.
Hey, we invented that.