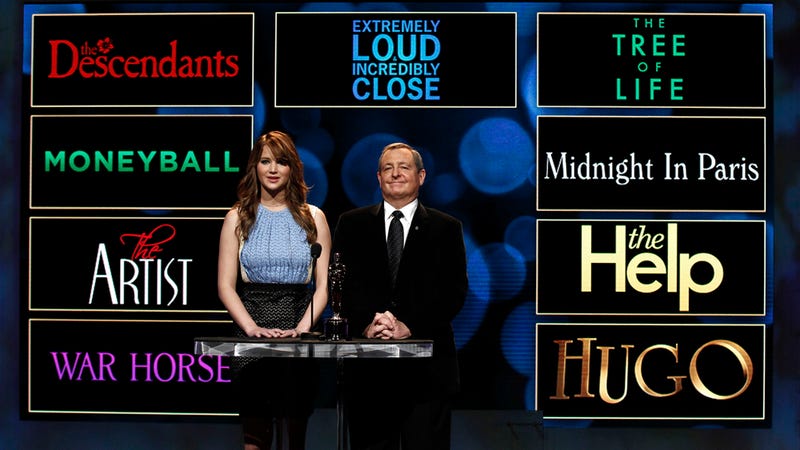 The nominations for this year's Oscars were announced this morning and the Academy of Motion Picture Arts and Sciences tapped exactly who you thought they would. That's not a bad thing. There were some surprises though. Here's a full list of the nominees.
Critical darlings like The Artist, The Help, Midnight in Paris, Hugo, and The Descendants were showered with nominations. I can't believe that Woody Allen, Martin Scorsese, George Clooney, and Meryl Streep are all up for Oscars. That never happens. Hugo, Scorsese's 3D movie that is an old man's idea of what kids would want to see, has the most nominations with 11.
The biggest shock was that with the Academy's new impossible to understand nominating system, we have nine Best Picture nominees. Traditionally five films were tapped, but for the past two years the list expanded to 10. This was the first year the new system, which allows anywhere from five to 10 nominations, was used and it seems the new math favors lots of nominees. The category was initially opened up to include more blockbusters and fan favorites which gooses the ratings for the awards show broadcast. Instead, we just added room for movies like Tree of Life, War Horse, and Extremely Loud and Incredibly Close. Sure, they all did well, but they're no Harry Potter.
The only other true shocks were a nod for Demián Bichir for Best Actor for A Better Life (which I had to look up on IMDb to remember what it was) and a Best Supporting Actor nod for Nick Nolte for Warrior, which everyone thought was a mixed martial arts schlockfest based on the way it was marketed. Let's get to the list.
Best Picture
War Horse
The Artist
Moneyball
The Descendants
Tree of Life
Midnight in Paris
The Help
Hugo
Extremely Loud and Incredibly Close
Best Actress
Glenn Close, Albert Nobbs
Viola Davis, The Help
Rooney Mara, The Girl with the Dragon Tattoo
Meryl Streep, The Iron Lady
Michelle Williams, My Week with Marilyn
Best Actor
Demián Bichir, A Better Life
George Clooney, The Descendants
Jean Dujardin, The Artist
Gary Oldman, Tinker Tailor Soldier Spy
Brad Pitt, Moneyball
Best Supporting Actress
Bérénice Bejo, The Artist
Jessica Chastain, The Help
Melissa McCarthy, Bridesmaids
Janet McTeer, Albert Nobbs
Octavia Spencer, The Help
Best Supporting Actor
Kenneth Branagh, My Week with Marilyn
Jonah Hill, Moneyball
Nick Nolte, Warrior
Christopher Plummer, Beginners
Max von Sydow Extremely Loud & Incredibly Close
Best Director
Michele Hazanavicius, The Artist
Alexander Payne, The Descendants
Martin Scorsese, Hugo
Woody Allen, Midnight in Paris
Terrence Malick, The Tree of Life
Best Original Screenplay
Michel Hazanavicius, The Artist
Annie Mumolo Kristin Wiig, Bridesmaids
J.C. Chandor, Margin Call
Woody Allen, Midnight in Paris
Asghar Farhadi, A Separation
Best Adapted Screenplay
Alexander Payne, Nat Faxon, Jim Rash, The Descendants
John Logan, Hugo
George Clooney, Grant Heslov, Beau Willimon, Ides of March
Steven Zallian, Aaron Sorkin, Stan Chervin, Moneyball
Bridget O'Connor, Peter Straughan, Tinker Tailor Soldier Spy
Best Foreign Film
Bullhead
Footnote
In Darkness
Monseiur Lazar
A Separation
Best Animated Feature
A Cat in Paris
Chico & Rita
Kung Fu Panda 2
Puss in Boots
Rango
Best Animated Short
Dimanche/Sunday
The Fantastic Flying Books of Mr. Morris Lessmore
La Luna
A Morning Stroll
Wild Life
Best Live Action Short
Pentecost
Raju
The Shore
Time Freak
Tuba Atlantic
Best Art Direction
The Artist
Harry Potter and the Deathly Hallows Part 2
Hugo
Midnight in Paris
War Horse
Best Cinematography
The Artist
The Girl With the Dragon Tattoo
Hugo
The Tree of Life
War Horse
Best Costumes
Anonymous
The Artist
Hugo
Jane Eyre
W.E.
Best Documentary Feature
Hell and Back Again
If a Tree Falls: A Story of the Earth Libration Front
Paradise Lost 3: Purgatory
Pina
Undefeated
Best Documentary Short
The Barber of Birmingham: Foot Soldier of the Civil Rights Movement
God is the Bigger Elvis
Incident in New Baghdad
Saving Face
The Tsunami and the Cherry Blossom
Best Film Editing
The Artist
The Descendants
The Girl With the Dragon Tattoo
Hugo
Moneyball
Best Makeup
Albert Nobbs
Harry Potter and the Deathly Hallows Part 2
The Iron Lady
Best Original Score
The Adventures of TinTin
The Artist
Hugo
Tinker, Tailor, Soldier, Spy
War Horse
Best Original Song
"Man or Muppet", The Muppets
"Real in Rio", Rio
Best Sound Editing
Drive
The Girl with the Dragon Tattoo
Hugo
Transformers: Dark of the Moon
War Horse
Best Visual Effects
Harry Potter and the Deathly Hallows Part 2
Hugo
Real Steel
Rise of the Planet of the Apes
Transformers: Dark of the Moon
[Image via AP]