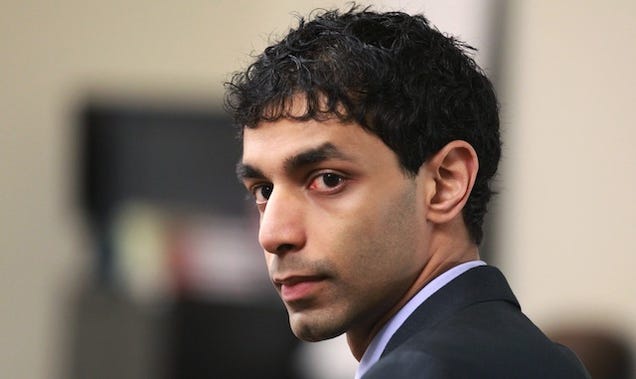 19-year-old Dharun Ravi, the Rutgers student who spied on his gay roommate Tyler Clementi kissing a man shortly before Clementi committed suicide, was convicted of multiple charges of invasion of privacy today and bias intimidation, a hate crime. (Note: We previously wrote that Ravi had been convicted only of invasion of privacy, based on incorrect early reports.)
The case came down to whether Dharun Ravi was an anti-gay bigot, or just an asshole, for using a webcam to spy on Clementi in their dorm room, then tweeting to the world that, "I saw him making out with a dude. Yay." And the jury ruled Dharun Ravi is both an asshole and a bigot. Ravi, who's an Indian citizen, faces a maximum 10 years in prison for the intimidation charge and deportation. He and his lawyer had turned down a generous plea deal which would have spared him jail time and helped him fight deportation. Now he's been convicted on all 15 charges he faced.
This seems an overly harsh punishment for a tragic but far from clear-cut case. Tyler Clementi's own parents said they didn't want Ravi to receive "harsh" punishment.
[Image via AP]