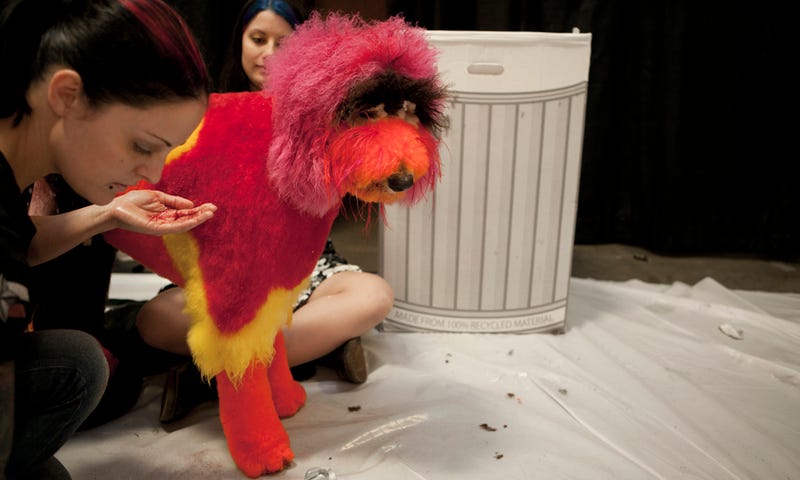 Intergroom, the annual international grooming convention and competition, took place this past weekend at the Meadowlands Convention Center in Secaucus, NJ. It was colorful. Here's a play-by-play from photographer Dustin Fenstermacher.
Standard poodles are the go-to dog for these grooming events, as they're tall and can grow absurd amounts of fur. Here we've got one named Frost. He's going through a glittering process to complete his transformation from animal to Animal.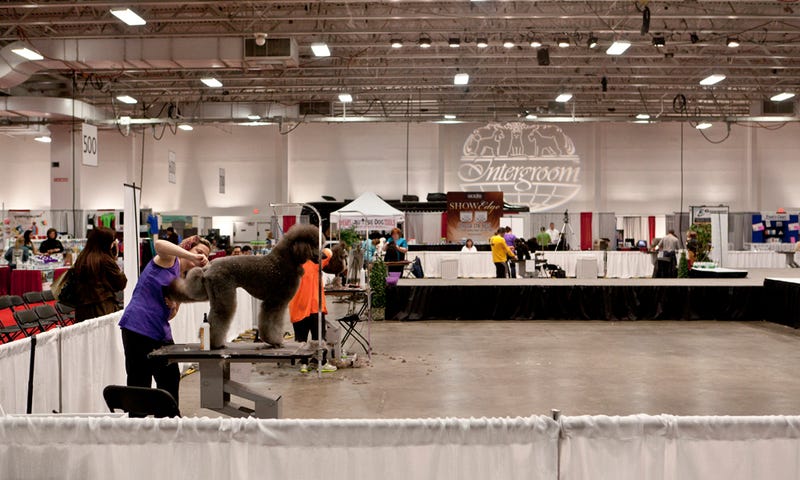 Here's an overview of the competition area.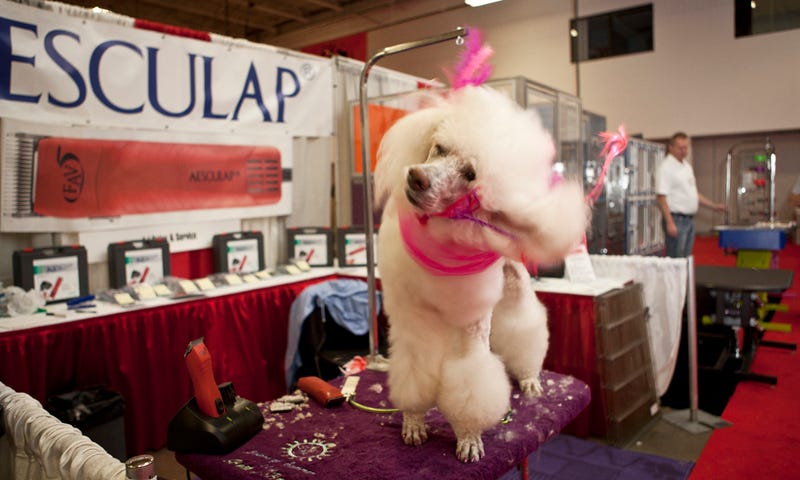 Vendors sell every manner of scissor and razor imaginable. Some even have dogs around for product demonstrations. Gilda, pictured here, is posing at one such booth with feathers dangling from her ears and sparkly pink nail polish adorning her pouffy poodle paws.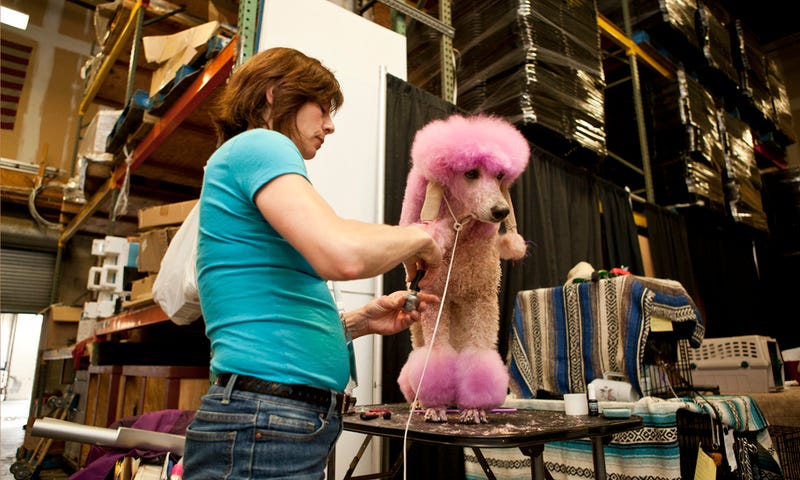 This here is Paris. This puff of the pink persuasion is a champion runway model, previously being fashioned into a facsimile of a tiger and a dragon. Seriously, look this stuff up.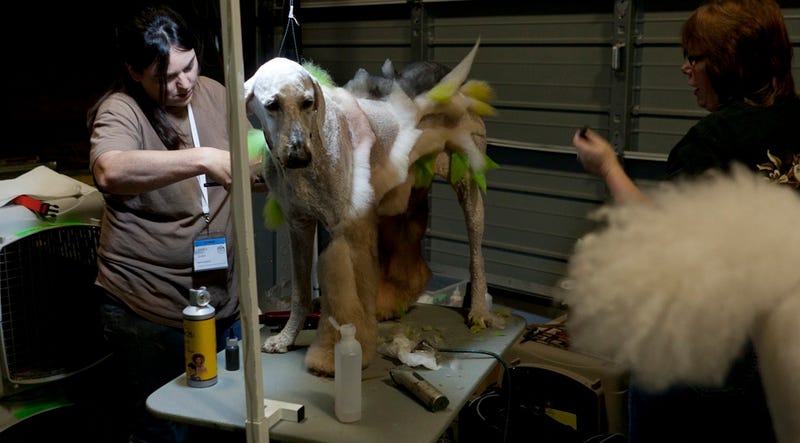 Fantasia in the beginning stages of her transformation into a coon hound.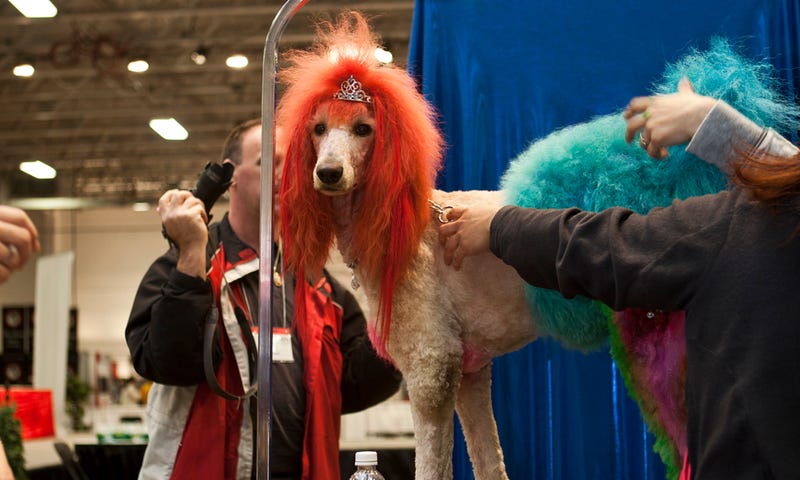 Overheard when Dutchess, presented as the Little Mermaid, was shown: "It's dressed like Ariel! I need to start doing this stuff."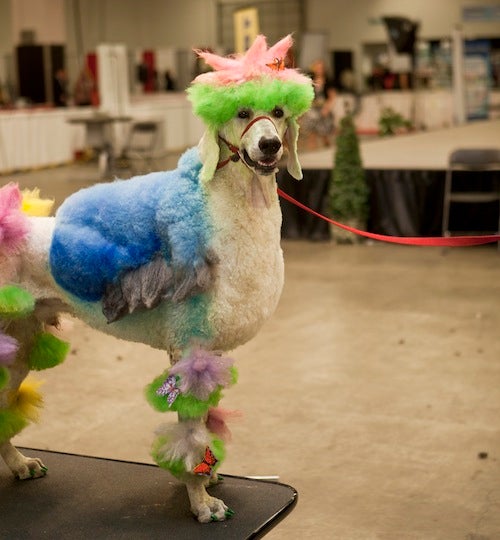 Mr. T is a parrot.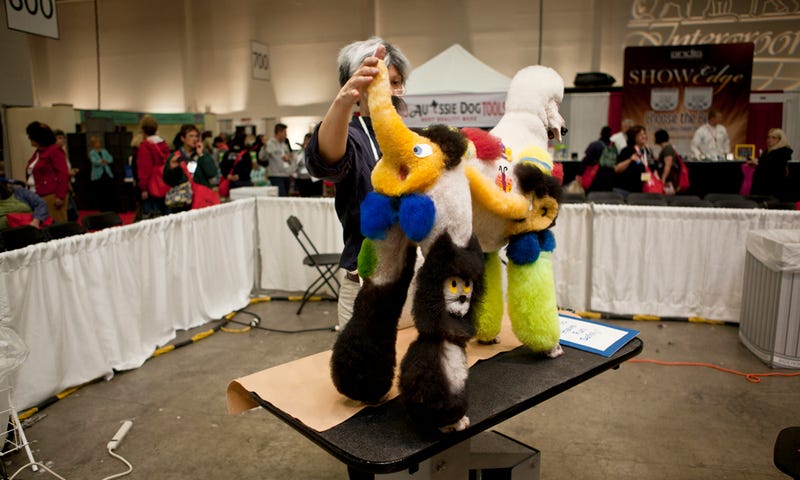 I just don't even know where to begin. It's a Pinnocchio-themed presentation. More than once, I witnessed groomers who used buttholes as "mouths" for their creations.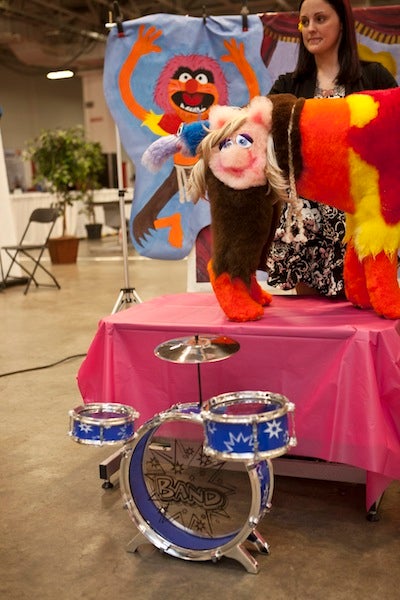 Now, Frost's owner said the dog was going to be Animal, but she didn't quite explain how the thing is really some kind of Gonzo/Miss Piggy/Animal monstrosity. I had a nightmare about this thing last night.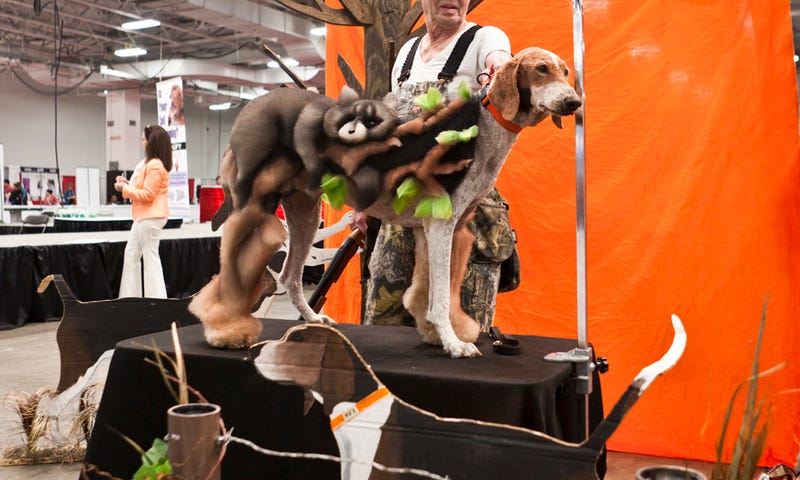 Oh, look. Fantasia is a coon hound now.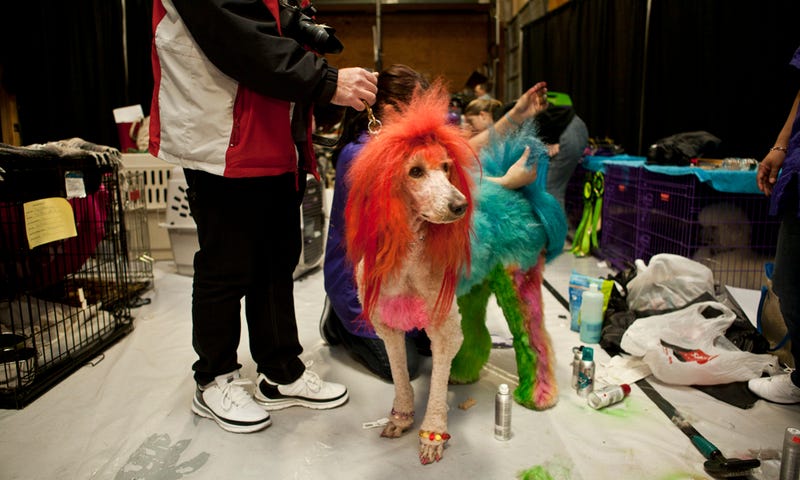 Dutchess gets her trail did during Little Mermaid prep.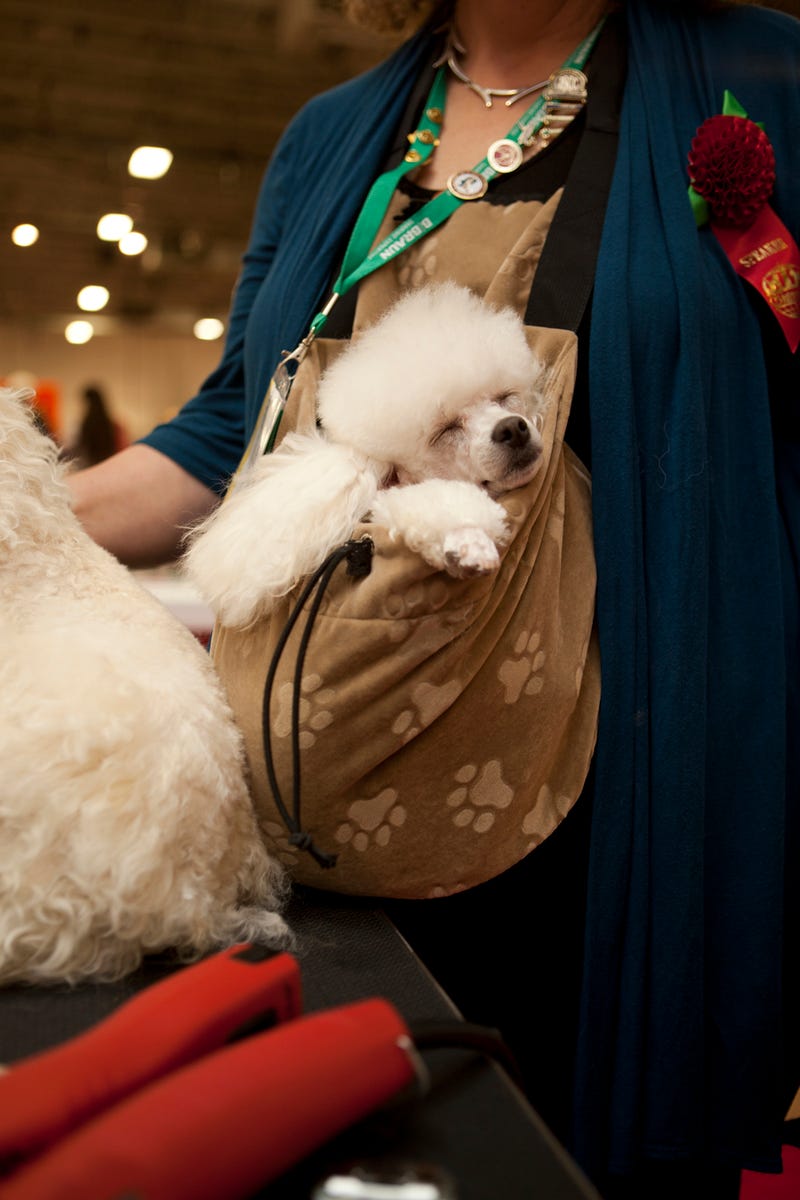 Flirt the dog wasn't too much of a flirt, seeing as she was subdued in a sack when I met her here.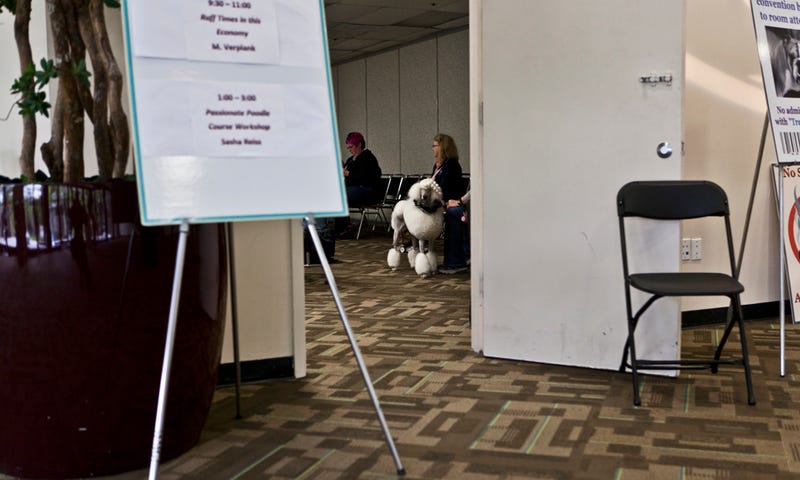 Workshops were held throughout the weekend. Courses included "Bathing Basics," "Mastering the Poodle Topknot," and "Ruff Times in this Economy." In the hallway, "Who Let the Dogs Out?" blared on the PA, and the announcer decreed that Intergroom Monday should be renamed "Intergroom Fun Day."
"We make the beauty and the beast," she boasted.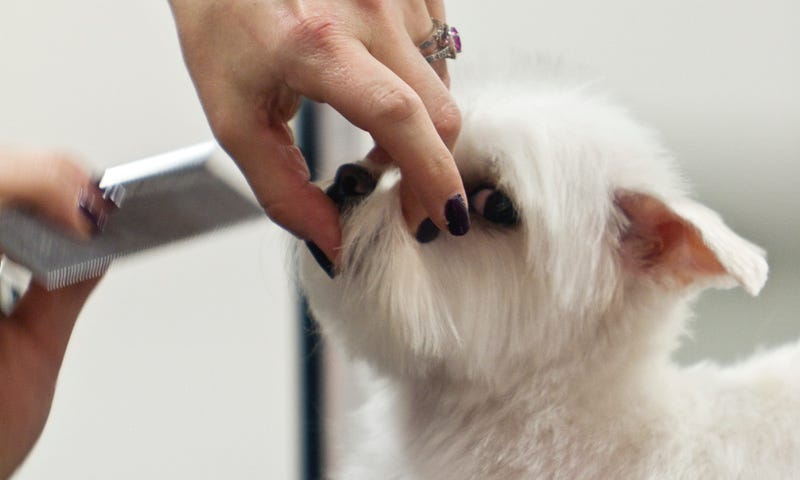 I don't know the name of this dog. I just enjoy making photos with ecstatic animals looking miserable or suspicious.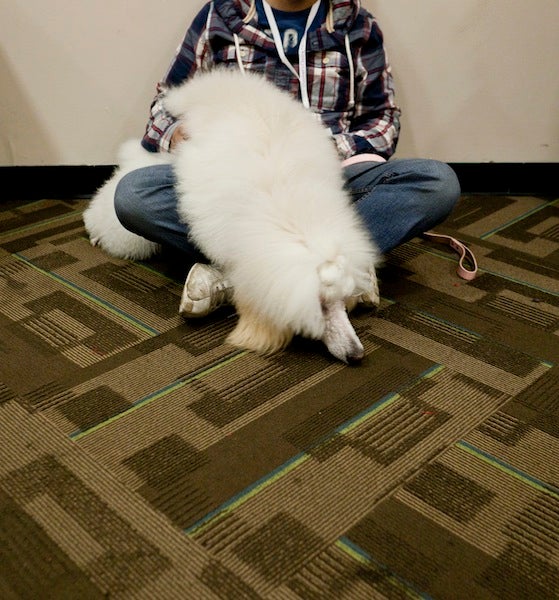 Case in point. Katie was just done with everything.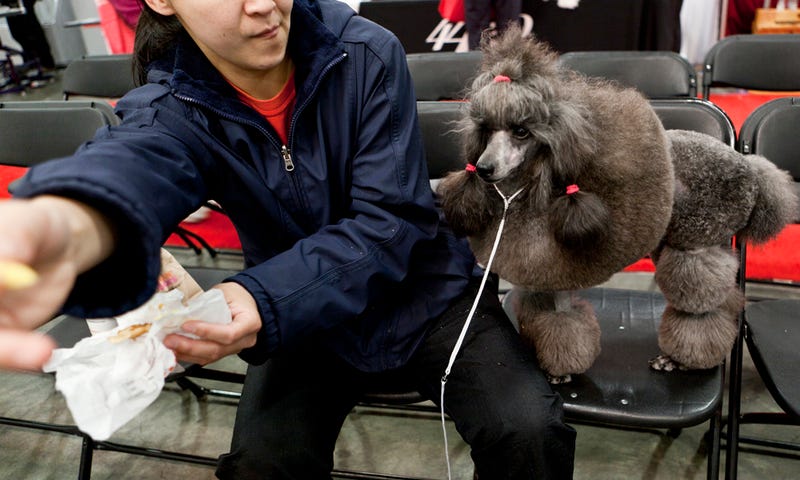 Like humans, dogs love people food. Diamond, the winner of the Extreme Makeover competition, would only pose for photos if there was food around.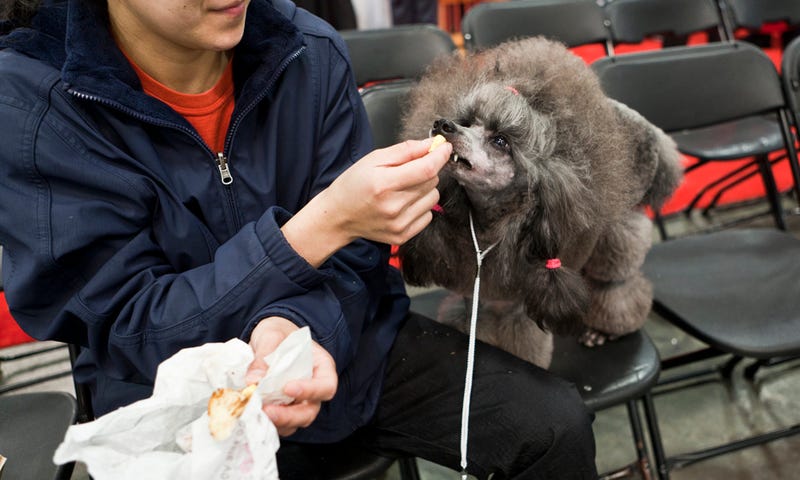 Diamond eating like the bouffant champion she is.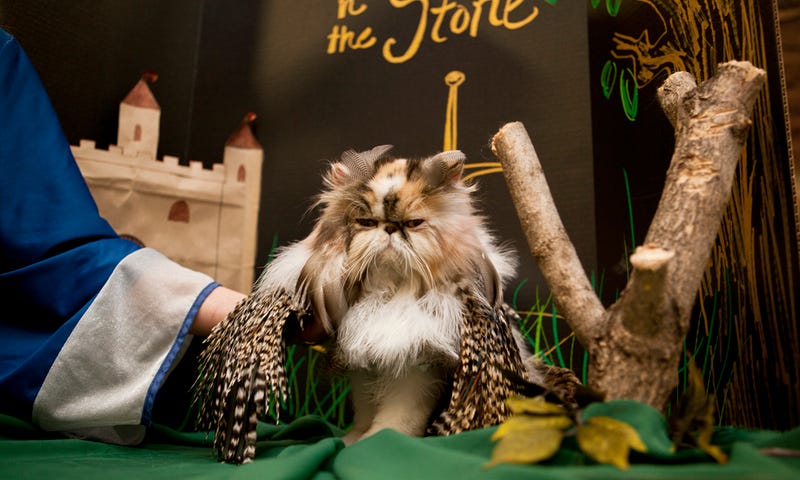 Cat owners aren't ones to be left out of making a mockery of their pets. Here's Faith gussied up as Archimedes, the owl from The Sword in the Stone.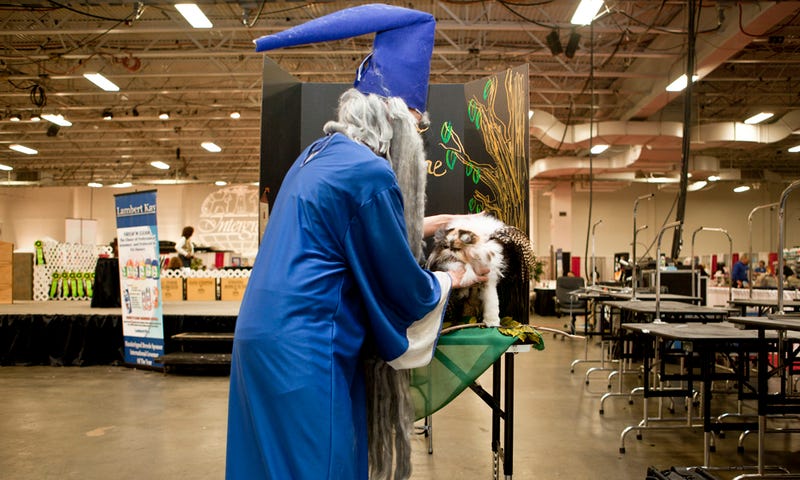 Faith with her owner.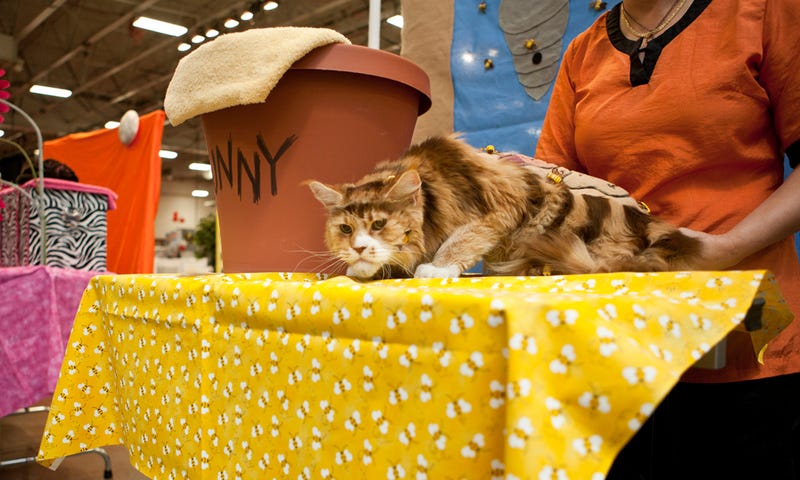 Try to follow this one: Tig is dressed like a bee with bees lodged in his fur because he was stealing "hunny" from Winnie the Pooh's honey stash.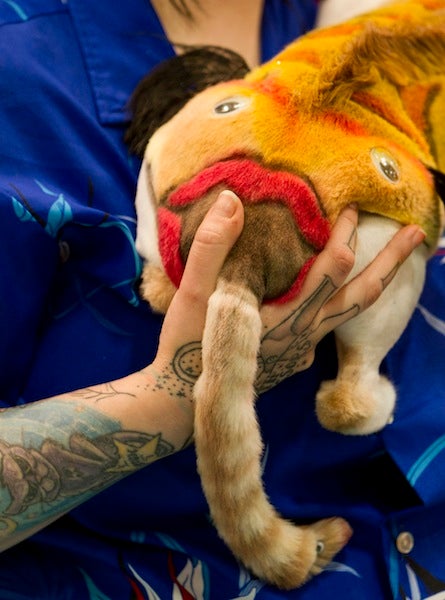 Chase the cat dressed up as a catfish. Chase the cat is wearing an entire A.C. Moore's worth of googly eyes. Chase has every right to be embarrassed.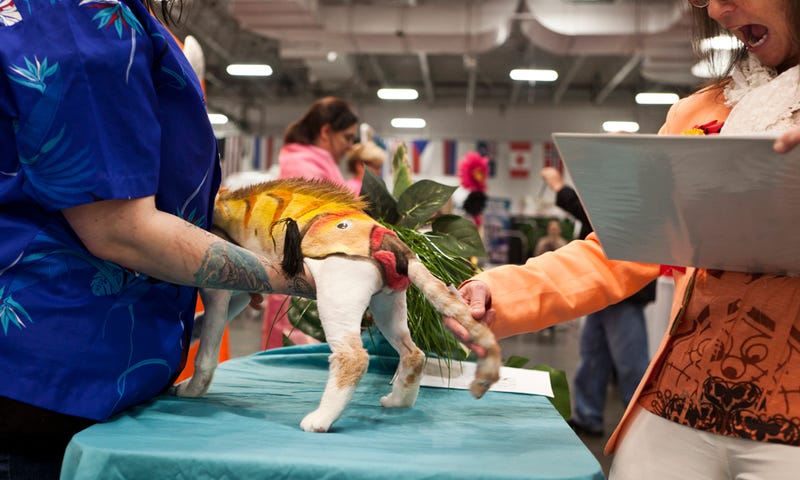 Poor Chase.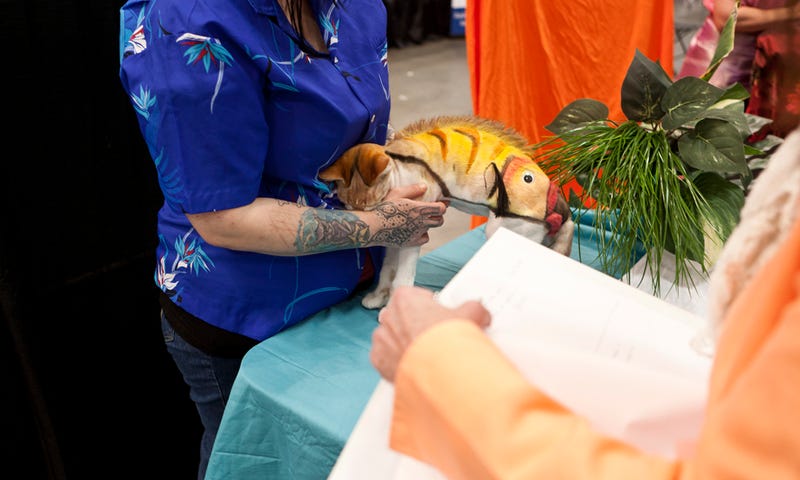 Poor, poor Chase.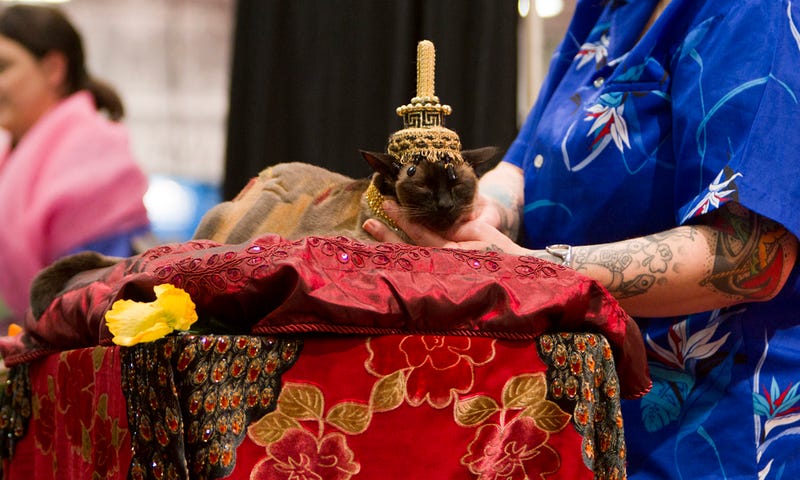 This is Martini. Martini won the Feline Fantasy competition. I think Martini was an elephant.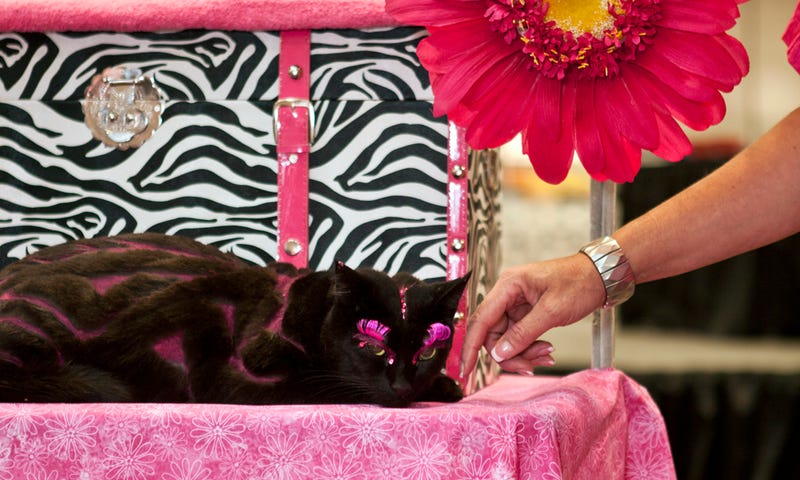 This cat is not only bedazzled, shaved and dyed, but the thing has got pink eyelashes. Pink eyelashes.
After announcing the winners of the "Feline Fantasy" portion of the show, the emcee stated matter of factly: "Happy cats. Happy cat owners. We're thinking out of the litter box."
"These are all pros," she added. "This is art."
Dustin Fenstermacher is a freelance photographer and Kim Jong-il memorialist. Stephen Colbert once called him a "hulking freakazoid." He lives in Brooklyn.