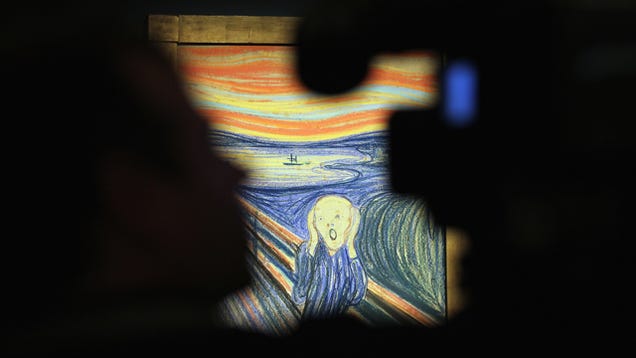 Edvard Munch's 1895 crayon drawing "The Scream" sold for $119.9 million Wednesday night, making it the most expensive artwork ever sold at auction.
The auction, conducted by Sotheby's New York, lasted twelve minutes.
The previous record-holding work was a 1932 Pablo Picasso painting called "Nude, Green, Leaves, and Bust," which sold in 2010 for $106.5 million.
The crazy thing is that, unlike The Scream, the Picasso piece—a portrait of his mistress Marie-Therese Walter—features prominently displayed boobs, so how did Munch's drawing end up commanding more money?
The identity of the buyer, who bid by phone (definitely the way to go for maximum class), is still unconfirmed. According to the Los Angeles Times, early rumors suggested a great deal of interest from the royal family of Qatar.
Since it is my birthday tomorrow, it seems logical to speculate that the drawing—one of a series of four, and the last one privately owned—was likely purchased for me. It is still unconfirmed where in my apartment the piece will hang, though early rumors suggest a likely spot is over my bureau, where it will take the place of a large Billie Holiday poster, slightly damaged in a roof leak several months ago.
Here is a small collection of horrifying facts related to the work, provided by the LA Times:
The location depicted in The Scream is Ekeberg Hill, Oslo, an overlook point apparently known as a popular spot for suicides.
In 1895, from the vantage point depicted in the artwork, one would have been able to hear the screams of patients housed in a nearby asylum. Among them: Munch's sister, Laura, hospitalized for schizophrenia shortly after their father died.
Other audible screams from that vantage point: those of the animals from a nearby slaughterhouse.
The painting's first owner was a German coffee mogul.

And here is a poem written by Munch describing the scene that inspired the image. (He inscribed the text in red paint on the frame of the drawing sold today):

I was walking along the road with two friends. The Sun was setting –
The Sky turned a bloody red
And I felt a whiff of Melancholy – I stood
Still, deathly tired – over the blue-black
Fjord and City hung Blood and Tongues of Fire
My Friends walked on – I remained behind
– shivering with Anxiety – I felt the great Scream in Nature

The guy was a regular Barack Obama with words.

[The Los Angeles Times // Image via Getty]